I'm trying not to blog for a bit while I get through some of that stuff that they call "work."
But this, via TPM, is both too delicious and too catastrophically on point not to notice.  In an interview with Chris Hayes, Nancy Pelosi assessed the performance of her successor as Speaker, delivering the results as only she could:
"Well, I will say this about John Boehner, and I have a good relationship," Pelosi said. "If he were a woman, they'd be calling him the weakest speaker in history."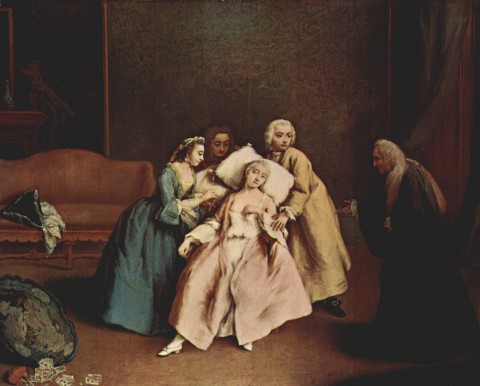 Never one to leave her audience unsure of where she stands, a little bit later in the conversation Pelosi expanded her argument in terms suited to the meanest understanding:
"You know what, if a woman were speaker and nothing was happening in this way, they'd say, 'Oh, my gosh. Oh, my gosh,'" Pelosi said. "I'm just getting a little, shall we say, tired of some of the ways they take a pass on some and not on others. We get criticized for accomplishing things. They don't get criticized for not accomplishing things."
Yup.  Our politics, our media village, your modern GOP, all dressed up and no where to go.
Image:  Pietro Longhi, Fainting, c. 1744.