I walk my dogs before sunup this time of year because it's just too damn hot to do it any other time of day. It's 75 degrees now, but with 100% humidity.
Anyhoo, so I was herding the leashed critters through the dark front yard, which my husband planted bamboo all over to make it shady and jungle-ish the way we like it, when I ran smack into a giant, sticky web.
I didn't actually see the spider because it was pitch black out, but I'm pretty sure it was Shelob: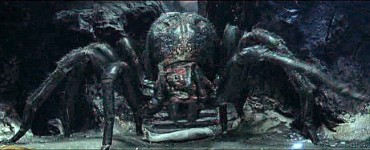 I felt something crawling on my hand, and I thought maybe it stung me as I was flailing away in a panic, but it's possible I just imagined that. I went ahead and took the dogs on their walk as it would have been unfair to turn back before we even got past the mailbox, but the entire time, I was flinching at psychosomatic spiders.
ETA: Just saw this sad news about the passing of Doghouse Riley of Bats Left/Throws Right. Link via esteemed commenter Warren Terra in the overnight thread. If true (and the source sounds reliable), that really sucks.