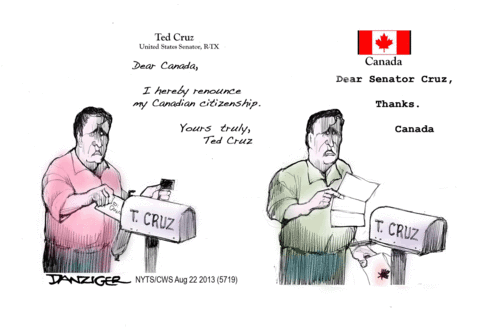 .
Eugene Robinson, in the Washington Post:
… No matter how contemptuous they may be about Obamacare, opponents have only two viable options: Repeal it or get over it.

Sen. Ted Cruz (R-Tex.) the Canadian American who appears to be running for president, has grabbed headlines and air time by being the loudest advocate of an alleged third option: Congress could refuse to fund Obamacare, thereby starving it and effectively killing it. This is a ridiculous fantasy, as Cruz, who has brains beneath all that bombast, surely knows.

Congress needs to pass a continuing resolution to fund the government beyond Sept. 30, the end of the fiscal year. The idea, if you can call it one, is that Republicans can refuse to pass any funding bill that contains money for implementing Obamacare…

Cruz gets to preen before a national audience and demonstrate the fervor of his opposition to Obama and all that he stands for. "If you have an impasse, you know, one side or the other has to blink," he said recently. "How do we win this fight? Don't blink."

The GOP establishment is blinking like crazy. Trying to defund Obamacare has little support among Republicans in the Senate. "I'm for stopping Obamacare, but shutting down the government will not stop Obamacare," Minority Leader Mitch McConnell (Ky.) said recently, demonstrating a grasp of reality.

The Republican majority in the House, though, is . . . what's the word? Unpredictable? Uncontrollable? Unhinged? They pay little attention to wise political advice and less attention to their leader, Speaker John Boehner of Ohio. And while they can't lay a glove on Obamacare, they're fully capable of knocking themselves out.
Apart from cheering confusion to our enemies, what's on the agenda for the end of the work week?