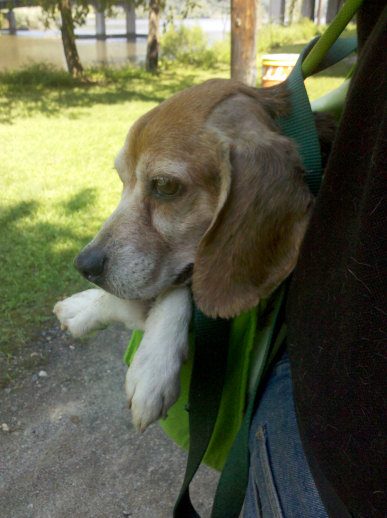 From commentor Tony S:
On a recent Friday, we had a meal in silence for the first time in 11 years. Twinkle Toes, our 17-year old merry little beagle, had died that morning.

She had been our friend, tormentor, companion, interruption, amusement, and sometime inspiration for every one of those years. Every movement she made, every thought she had, every action she took, was focused on us. How much attention we were giving to her. What food we had, and might be willing to share. How she could turn her official status as alpha of a pack of six, four dogs, and two humans, to her advantage. How she could get petted, stroked, cuddled and find a cushy shoulder, or doggy butt, to lay her head on.

Even her speech, as it was, focused on us. Most dogs bark at things. Twinkles barked for things. She was an adult-almost-senior rescue, and her behavior showed a degree of familiarity with cats that bordered on indifference. Her litany of cat-like behaviors included insistent snuggling up and sleeping on various body parts. And then there was smushy face. Cat's eyes usually aren't that gloopy, so, when the rub their heads against yours, it's warm and comfortable. One of Twinkles's favorite ways of saying thank you was to press her head against your eyes so hard you'd see colors even with your eyes closed. Then she would stroke up, down, and around. Tissues were a must. Paper towels a good idea.

Twinkles had a cat-like voice. In the two thirds of her life that we knew her, she never, ever, ever barked. Instead, she yurped. It was sort of a half, maybe a quarter bark; almost a meow by beagle. In their own way, the cries were eloquent. There was a difference between "It's dinner time," "You're having a snack and not sharing it," and "You haven't petted me enough today." But the yurping would go on until satisfaction was attained. Like a canine metronome. For hours. We timed it. Once every five seconds. Until she got what she wanted. Since she left us, there has been a vast, beagle-sized silence in our house. It's also inconvenient.

Twinkles was a canine timer and alarm system. She had Addison's Disease, an illness where the body becomes unable to process energy without help. So she got a steroid pill every day. I gave it to her early in the morning. If I was late, I got yurped. We served dinner at 6:30 every evening. At 6:00, a grumbling whine began. By 6:25, it was yurp city.

By all rights, Twinkles should have been dead or in prison. She was an adult dog when she was found tied to a lamppost on Peekskill's Main Street. She'd been there for so long her paw was bloody. Worse, she was a cripple. Her left front leg was twisted, turned out like a ballerina's, which gave Twinkles an odd, loping walk that caused regular tumbles whenever she tried to run.

Dogs of this type are rarely if ever adopted from shelters. People want cute puppies, not gimpy grownups. But, when we purchased our house in 1999, it came with Gypsy, a super-senior beagle. We lost her three years later, when she was about 20, and had kept adopting older dogs in her memory.

We love adopting older dogs. I think Dixie Charline, the most senior pup we took on must have been about 16 when we adopted her. Our most recent addition, Snarls Barkly, was at least nine. Older dogs are great for many reasons. First, someone else has done the hard work of training them. Also, Celine and I are in our 50s. We want mellow, not some rattling bundle of energy. And, finally, we think it's a terrible injustice that a dog which has lost the home it may have had for many years may not find new companions simply because of their age.

At five or six, Twinkles was a relative youngster when we took her on. She'd only spent a few weeks at the Elmsford, NY ASPCA. In part, that was because kept calling to see how she was doing. After we'd checked in for the third or forth time to see how the lamp post beagle was doing, the shelter said we should just come down and get her. So we did, and found we had secured a truly merry companion.

Disabilities can bother people. Twinkles didn't care about her limp. For one, she was a dog, and didn't have a higher ego that could get bruised or cause her to feel shamed. As a beagle, walking–movement of any kind, really–wasn't her thing. People were, and food. Status was important only in that it meant she got her dinner bowl first.

Rescue dogs also come cloaked in compelling mystery. The first time Twinkles got seriously sick and was X-rayed, we found out her front paw was held together with a bolt and her back one with wire. Someone had put a few thousand dollars into her–and yet she wound up in the street, and then, in a shelter, alone and personless.

We had another hint she was special when we sent Twinkles to get fixed. Her papers came back with the notation, "Nice dog. Needs to loose weight." We certainly agreed about the nice part.

To not have a person is a terrible thing for a dog. We've spent tens of thousands of years shaping these creatures so they crave having people in their lives, or feel terribly incomplete without them. Home isn't just comfort to them; it's a vital, essential need that must be filled. Twinkles gave us one of our better lessons in this when she came down with Addision's Disease and had to spend a few days in the animal hospital.

With sleeping as her favorite hobby and eating her most joyful activity, Twinkles seemed like the ultimate in relaxed canine companions. One aspect of Addision's disease is the Addisionian Crisis, which can bring a dog from full health to seizures and death in the space of 12 hours. Twinkles went into the hospital on Sunday on one of her crises. The vet told us she wouldn't be leaving until at least Wednesday. I called early Monday morning to check up on her.

In the background, I heard "Yurp. Yurp. Yurp." as we talked. Five second spacing. By noon the vet called and said "Come pick her up. Now. Please." Twinkles wasn't just vocalizing. The skin on top of her nose was rubbed off. She knew where her home was, and wanted to get there as fast as possible.

Dogs are intensely political creatures. Twinkles seemed to be above all that. What she wanted was a warm shoulder to sleep on and a full belly. If she had to pull rank to get she was ever-willing to do so. Our younger dogs have proven to be far more crazy than any seniors that have ever stumbled into our lives. Monty is a beagle whose size makes him verge on being a foxhound. He's also the only purebred we have.

Incredibly obsessed with food, Monty, is also, for a dog, a mechanical genius. One evening Twinkles disappeared from the bed for an unusually long time, then came staggering back, belly bloated and eyes glazed. Monty had figured out how to open the refrigerator. Twinkles had sensed this and exercised her authority. We had guests coming that weekend. Two roast chickens, three loaves of bread, and four pounds of cold cuts vanished, with only empty plastic containers to show they had existed.

Monty could easily have put Twinkles in the doggie hospital. But she was the boss, and knew it. Twinkles had obviously had terrible things happen to her. She just didn't give a shit, so long as she got the food and attention she deserved. When Twinkles was anointed Alpha, she took the position with grace and style. Our other dogs understood her status, and worshipped her daily–literally. Jessica would spend half an hour a day licking Twinkles' face, while Monty dedicated himself to spending hours making sure her inner ears were surgically clean.

Always watching. Constantly thinking. Ever manipulating. If a being has a personality, is it a person? To me, this isn't a philosophical question. Twinkles wasn't human, but she was a unique and special individual. Some of the dogs we have that came from rough backgrounds run and hide when they sense their humans are under stress. Twinkles always came closer. There would be a bump on the leg, a nudge, and a demand for some smushy face.

She took care of her people. It's what a best friend does.

One of the things I like best about Balloon Juice is the way it mixes community and insight with calls to action. We had 11 great years with Twinkles. The next time you're looking for a dog, please consider an adult or a senior. And, perhaps, when you choose one, you'll hear a "yurp" from a faraway place, and know you've made the spirit of a wonderful being happy.