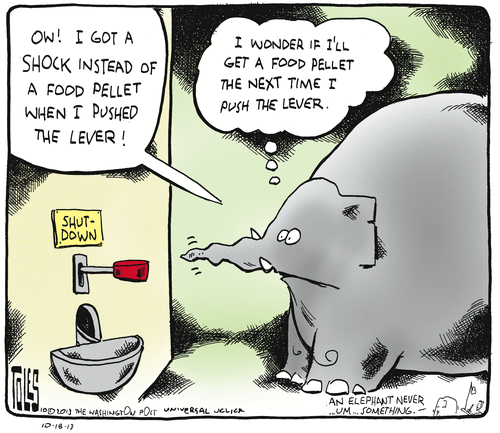 Probably not, to hear Alex Pareene tell it:
These days, angry conservatives seem to get much more excited about campaigns to punish insufficiently conservative Republicans than they do about campaigns to actually defeat Democrats. This is maybe the result of Obama's reelection, because most Republican losses in the modern era are followed by angry calls for the party to be more conservative. One of the most prominent of the groups currently capitalizing on the fervor is the Senate Conservatives Fund, a group that has made a lot of money shouting fantasies about killing Obamacare. Now they are going to spend some of that money on defeating Senate Minority Leader Mitch McConnell, which is a very silly thing for conservatives to spend money on.

Oh, but they hate McConnell. Conservatives hate McConnell so, so much. Erick Erickson, a reliable indicator of the mind-set of the "shout harder and we'll win!" caucus, is sending the Senate Conservatives Fund money "to help with their fight." The Senate Conservatives Fund has already been running ads attacking him for not defunding Obamacare, so endorsing his challenger is really just the logical next step…

The campaign to take down Mitch McConnell is insane, from a conservative perspective. McConnell is the single most effective legislator Republicans have, and he's used his power to advance the interests of the conservative movement. The Senate GOP is much, much more pragmatic than the House GOP, and it contains genuine squishes, if not quite RINOs (there are not many RINOs left in the world), and these squishes have more power than any given House squish. Susan Collins' plan to end the shutdown didn't go anywhere, but it was a more serious threat to GOP unity on the fight than anything Peter King did. McConnell has spent every day since Barack Obama's first inaugural keeping those squishes in line. Thanks largely to him, the most "moderate" Republicans in the Senate have stood with the rest of party in opposition to nearly all of Barack Obama's agenda…

So, yes, fund a primary campaign against Mitch McConnell. Definitely do this, conservatives. It will work out great. Even if Bevin beats McConnell and wins the seat, Republicans will have traded their best parliamentary weapon for another Mike Lee. Good strategy, everyone. "This guy sure is good at saying stuff to Sean Hannity, now we'll finally start winning all the politics, forever."…
***********
Apart from pointing & mocking, what's on the agenda for the evening?