ALL YOUR CHAIRS ARE BELONG TO US: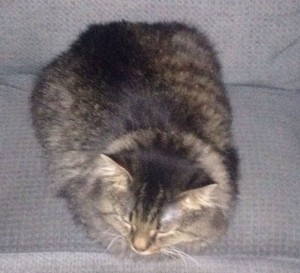 Steve's new thing is whenever I get up to rush and claim the seat and then refuse to get up. When Lily does this, I just pretend to not notice her and slowly lower my fat ass into the chair and she scrambles to the sides and climbs onto my lap. Not so with Mr. Catitude. He doesn't flinch. I can attempt to sit, I can yell, I can clap my hands, and he just looks at me until I give up and pick him up and put him on my lap.
I'm never going to own another cat that isn't a Maine Coon mix.