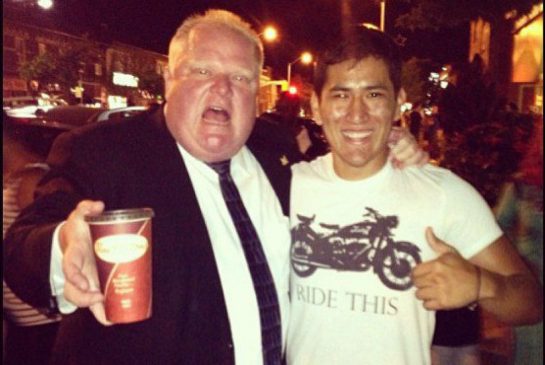 Rob Ford, Toronto's possibly crack smoking mayor, went on his weekly radio show and offered up one of the stranger apologies I've ever heard from a politician.
The Danforth – that was pure stupidity. I shouldn't have got hammered down at The Danforth. If you're gonna have a couple drinks, you stay at home, and that's it. You don't make a public spectacle of yourself. Hopefully it doesn't happen again…and..and..I'll make sure it doesn't happen again. But to sit here and say I'm going to lose 100 pounds and be a brand new person in six months or a year, I'm not going to mislead people.
The picture above is Ford at the Taste of the Danforth festival where he got hammered this summer.  He also says that the Toronto PD should release the alleged crack smoking video, though he denied being a crack addict. He's also not going to resign.
In other news from the great white north, I think Harper's politician hair might be a terminal condition.