Timing, timing, timing.
The indispensable Charles P. Pierce draws our attention to Our Nation's Capital's Newspaper of Record and the piece found therein today on the stirring intellect of that paragon of right wing media, Megyn Kelly.
As Mr. Pierce points out, The Washington Post's editors might have wished for a slightly different news hook for the ritual tongue bath offered Ms. Kelly:
Unfortunately for the Post, which must have spent hours turning a fire hose on the reporter when he was done, Kelly marked the occasion by having some interesting things to say about Santa…and Jesus
Kelly, it seems was all bent out of shape by a piece over at Slate by Aisha Harris, who wrote:
When I was a kid, I knew two different Santa Clauses. The first had a fat belly, rosy cheeks, a long white beard, and skin as pink as bubble gum. He was omnipresent, visiting my pre-school and the local mall, visible in all of my favorite Christmas specials.
Then there was the Santa in my family's household, in the form of ornaments, cards, and holiday figurines. A near-carbon copy of the first one—big belly, rosy cheeks, long white beard: check, check, check. But his skin was as dark as mine.

Seeing two different Santas was bewildering. Eventually I asked my father what Santa really looked like. Was he brown, like us? Or was he really a white guy?

…

Two decades later, America is less and less white, but a melanin-deficient Santa remains the default in commercials, mall casting calls, and movies. Isn't it time that our image of Santa better serve all the children he delights each Christmas?
Yes, it is. And so I propose that America abandon Santa-as-fat-old-white-man and create a new symbol of Christmas cheer. From here on out, Santa Claus should be a penguin.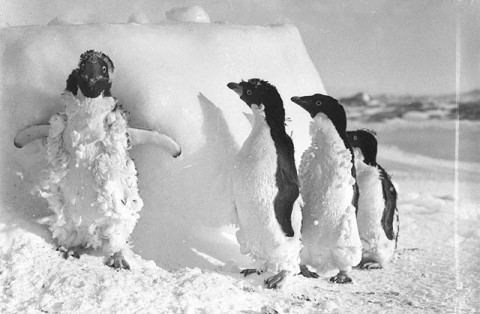 OK, that's funny, and cute, and hardly the stuff of high dudgeon to most of us.  But as Charles knows very well, Fox News folks are not most people.  And I'd have to say that "interesting" is only one word I can imagine to describe what Megyn Kelly had to say about Harris's pro-penguin subversion:
…"For all you kids watching at home, Santa just is white," Kelly said. "But this person is just arguing that maybe we should also have a black Santa. But Santa is what he is…Just because it makes you feel uncomfortable doesn't mean it has to change, you know?" she added. "I mean, Jesus was a white man too. He was a historical figure, that's a verifiable fact, as is Santa – I just want the kids watching to know that."
Oh, my sweet FSM.  Verifiable facts at Fox are … not like the ones those with even a by-the-fingernail grasp on reality can recognize.
Which, to my pleasure, Harris was delighted to point out:
Uh, yeah.
And just in case those with the meanest understanding (looking at you, Fox newsdesk) have trouble following that thought, Harris kindly explains why remembering that Santa is a made up confection loosely based on some old sainthood myths is actually kind of important, if only as a test of whether or not you can be allowed out on your own:
 I'll be fine if no one else jumps on board the penguin train and Santa remains a white man. But if you're seriously emphatic that he is white and must remain white, there's a good chance that your view of the rest of the world is just as limited and unimaginative. I mean, we are talking about a magical man who slides down your chimney every Christmas Eve. Just so we're clear.
Will that voice of calm reason have any effect on Kelly and her claque?  I doubt it.  Research into such utterly difficult questions as consciousness
advances every year
— but there is on the horizon still absolutely no cure for stupid.