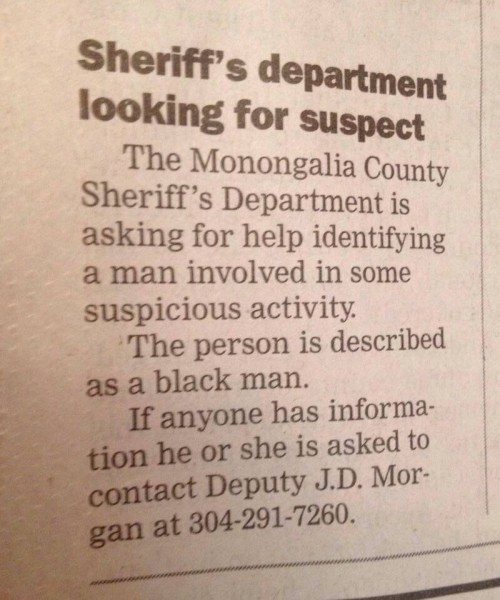 The Columbia Journalism Review did some digging, and it turns out that blurb (as many of you expected and I had hoped) was the result of an idiotic copy editor:
On Sunday, John Cole at the blog Balloon Juice posted a photo of the item along with some sarcastic commentary:

ATTN: EVERY BLACK MAN IN MORGANTOWN! Don't be suspicious, because we are onto your shit.

Cole's blog post didn't cite a date for the paper or link to an online version of the brief, so at first I thought the whole thing might be a hoax. Or perhaps something that appeared in the paper decades ago. No one at the paper responded to calls or emails Sunday, so I called a Morgantown gas station that sells The Dominion Post and asked a young-sounding clerk if he might have a copy of yesterday's edition lying around. He did, and he turned to page A2 and read the item aloud to me. (I'm not going to repeat the word the young man used to describe his assessment of the news item, but it was a derogatory term for someone with an intellectual disability.)

Later Sunday afternoon I got in touch with Deputy Morgan at the sheriff's office. Unlike the gas station clerk, he was not so amused.

"You have no idea," he told me. "I've been taking flak over that for two days now."

The deputy says he stopped by the newspaper and dropped off a short news release with two photographs days ago. He says the person in the photos–a black man–isn't a suspect in any case, but is someone authorities want to talk to about some credit card transactions. The department was hoping anyone with information about the man would call.

The sheriff's department has been hearing from area residents since the item appeared in the paper, though not with the response they'd hoped for.

"It's been constant day and night since yesterday morning," Morgan said. People have come in to complain. Oh, and the phone calls.

"Usually it's just sarcasm from people," the deputy said. "'Hey, I've seen a black guy walking and he looks suspicious, I hear you're looking for him.'"

It got bad enough, Morgan said, that he went over to The Dominion Post and asked if the paper could issue some kind of clarification. Late Saturday, the Post published on its website this item, which includes the photos, a more detailed description of the man, and a mention of stolen credit cards.

That's probably what Morgan was expecting to see in the first place–though the deputy says he was hoping the update would offer a little more clarity about how the original item had made it into print.
I bet this will go down as one of those teachable moments everyone seems to want to have about race.