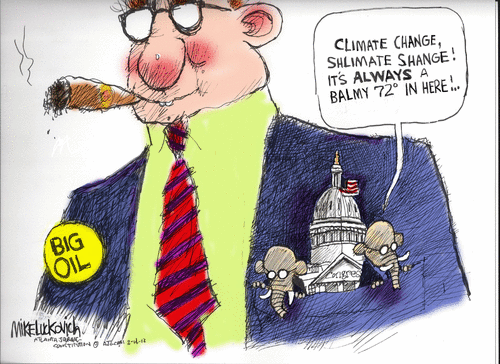 (Mike Luckovich via GoComics.com)
Monday falls on a Tuesday for some of us this week, but perhaps this is a small piece of good news? From the NYTimes:
A billionaire retired investor is forging plans to spend as much as $100 million during the 2014 election, seeking to pressure federal and state officials to enact climate change measures through a hard-edge campaign of attack ads against governors and lawmakers.

The donor, Tom Steyer, a Democrat who founded one of the world's most successful hedge funds, burst onto the national political scene during last year's elections, when he spent $11 million to help elect Terry McAuliffe governor of Virginia and millions more intervening in a Democratic congressional primary in Massachusetts. Now he is rallying other deep-pocketed donors, seeking to build a war chest that would make his political organization, NextGen Climate Action, among the largest outside groups in the country, similar in scale to the conservative political network overseen by Charles and David Koch.

In early February, Mr. Steyer gathered two dozen of the country's leading liberal donors and environmental philanthropists to his 1,800-acre ranch in Pescadero, Calif. — which raises prime grass-fed beef — to ask them to join his efforts. People involved in the discussions say Mr. Steyer is seeking to raise $50 million from other donors to match $50 million of his own.

The money would move through Mr. Steyer's fast-growing, San Francisco-based political apparatus into select 2014 races. Targets include the governor's race in Florida, where the incumbent, Rick Scott, a first-term Republican, has said he does not believe that science has established that climate change is man-made. Mr. Steyer's group is also looking at the Senate race in Iowa, in the hope that a win for the Democratic candidate, Representative Bruce Braley, an outspoken proponent of measures to limit climate change, could help shape the 2016 presidential nominating contests…
***********
Apart from hoping for the best, what's on the agenda for the day?