Here is Shawn playing some bass and serenading Steve, who is trying to contain his interest and look non-plussed, but he is totally infatuated with Shawn: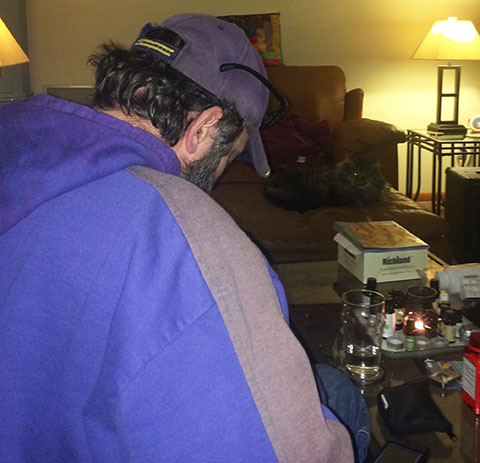 Here is Steve five minutes later, getting some heavy petting: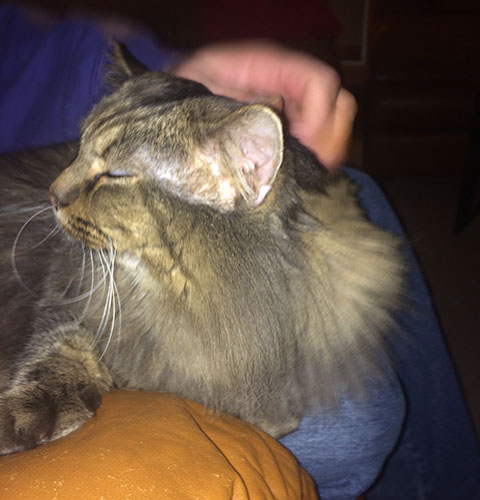 I will also point out that he is wearing a Ravens sweatshirt and hat, in a Steeler house, and I am ok with it. I think I should win some sort of tolerance award, because really, we're pushing new boundaries here. My mother didn't even look disgusted when she met Shawn and he was wearing the hat.
Regardless, he is seriously an animal whisperer. Rosie and Steve are completely smitten, as is Lily when I am walking around and not providing lap time, but unlike the others, she has stayed true to her daddy and not slutted herself as overtly out to Shawn like Steve and Rosie.
Shawn's blood sugar is so rock solid in the 130's or so that I don't even feel the need to talk about it anymore, although we are going to work to get it lower by tweaking a couple things. He's taking me up on my offer and moving in for a couple of months (or as far as I am concerned, for as long as he wants) and finding a job around here and then getting his own place. It's a win/win for me, because I have been calmer and more centered and my head has been clearer the last couple of weeks than for as long as I can remember, and it is extra incentive to stay with this new style of eating. Not to mention, he can use tools and fix things without having to be rushed to the hospital with blood spraying everywhere while screaming "Game over man, game over." So that is kind of cool, too.
Shit is good in the house formerly run by Tunch, and I am very content. You?