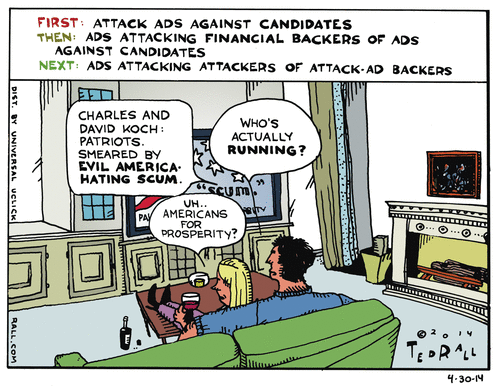 (Ted Rall's website)
Greg Sargent at the Washington Post, "The Democrats' election year blueprint takes shape":
So Senate Republicans just successfully filibustered the Dem push for a minimum wage hike to $10.10 per hour, blocking it from even proceeding to debate. Every Senate Republican except for Bob Corker voted No, and every Dem except for Mark Pryor voted Yes…

… [E]very red state Dem — aside from Mark Pryor — voted Yes, despite predictions of possible defections. Dems are united behind the idea that the push for a minimum wage hike is a political plus in red states. And even Pryor is today circulating an op ed he wrote for Arkansas papers in which he called for a hike in the state minimum wage and excoriated opponent Tom Cotton for opposing it.

Dems see the minimum wage hike as not just good politics for swing voters in general, but also specifically in appealing to women. It is central in the push to win over downscale women in the Kentucky Senate race. Incumbent Senator Mitch McConnell, of course, is the leader of the Senate GOP that just refused to allow the issue to be debated, and Alison Lundergan Grimes' campaign is out with a web video hitting him over today's vote. And more broadly, the minimum wage hike, when packaged with other proposals such as pay equity, is about appealing to unmarried women, a crucial Dem constituency that tends to fall off in midterms…

This is what Harry Reid's vow to use Senate votes to create a campaign blueprint looks like in practice. This notion has been greeted with a great deal of cynicism about how Dems know none of these things can pass and therefore are engaging in empty election year messaging votes. But in an election year, it's good to have the two parties' priorities set forth with as much clarity as possible. And that's what we're now getting.
***********
Apart from that, what's on the agenda for this Friday's doc dump?