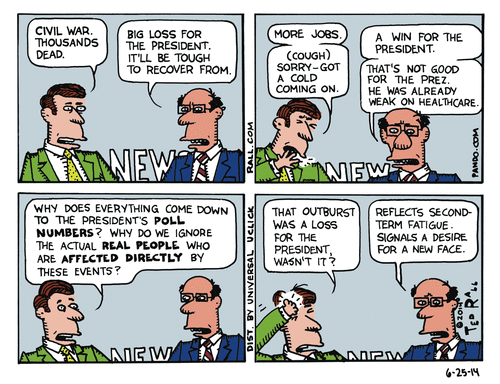 .
Dave Weigel can't resist a victory lap (not that I blame him):
Reporters: Please adjust your narratives. If your narrative is in the locked position, please apply the Smart Take solution that you have been provided.

Well, the Great Tea Party Comeback of 2014 lasted no longer than the Great Tea Party Implosion of 2014. Mississippi Sen. Thad Cochran has narrowly won re-nomination over challenger Chris McDaniel, in a vanishingly rare case of an incumbent winning a runoff after losing round one of a primary — and in an even rarer case of turnout surging from the primary to the runoff. Oklahoma Senate candidate T.W. Shannon has been defeated by a member of the House GOP leadership. A crew of Tea Party challengers to congressman have gone down in flames across all time zones…
Erick "Voice of the GOP Gated Community" Erickson plays Pagliacci:
"At some point there will be more people with knives out to cut the strings than there will be puppeteers with checkbooks."

Having been an elected Republican and someone who routinely takes the position of supporting conservatives in primaries and Republicans in general elections, the Mississippi race does crystalize for me the desires of many to start a third party. In essence, tea party activists are the RINOs. A Republican Party campaigning on making the Senate "conservative," used liberal Democrats to preserve an incumbent Republican and defeat a conservative. The actual conservatives are the outsiders with the GOP establishment doing all it could to preserve its power at the expense of its principles.

The problem for those who call themselves Republicans is that it is harder and harder to say exactly what a Republican is these days. The great lesson from Mississippi is that Republican means, more or less, that if elected the party will reward its major donors, who are just different than the Democrats' major donors. Policy differences are about different donors, not an actual agenda to shift the country in a different direction.

The Republicans have become the party of lobbyists, most of whom were on twitter celebrating their purchase….
Hey, Rick Santorum thinks "conservative politicians aren't conservative enough", too! Maybe you guys can get together and show the rest of us what a True Conservative Party looks like!…
***********
Apart from savoring the schadenfreude, what's on the agenda for the day?