I think my favorite things in life all revolve around my pets. Every night, Lily sleeps with her but in my armpit so I can scritch her ears as she lies in between my arm and torso, and Rosie sleeps up against my hip. When I wake up in the morning when the sun comes in, and I know I don't have to be up yet, just lying their with the critters next to me while being all comfortable and cool in bed, just basically meditating for an hour or so before the day starts. Man, that is awesome.
Another favorite is just sitting out on the back porch at night watching the stars and listening to the infrequent sounds around town, watching the bats and the fireflies, and my buddy always comes up and sits next to me on his chair. We can spend a half hour just sitting in our chairs, with me petting him and and giving him underchins: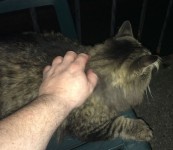 And for those of you who like to call Steve fat, that is the arm of a man who is 6'1″ and whose weight is somewhere near Div. I nosetackle. In about two weeks it will be the one year anniversary of Tunch's death, and I do not want to phrase this wrong, because I miss him, but Steve is such a character that it was super easy to go through the grieving process.
I'm telling you. If you need a starter cat, get a Maine Coon. They're just the fucking best.