The piglets are doing fine, but here is a pic to prove it (although it is from the other night, so I guess I am not proving anything):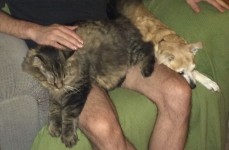 But this is basically what they are doing right now, just being bitchier and less photogenic. In an odd note, Steve is the first cat I have ever known who likes steak. I really think this kid is part bobcat.
And you all keep calling him fat like I am over feeding him, but I swear to you, yes, he has the little paunch that all toms get when they get snipped later in life, but he just really is a big damned cat. His frame is massive and he is bigger than both dogs, even if he was skinny. He's just a big man.