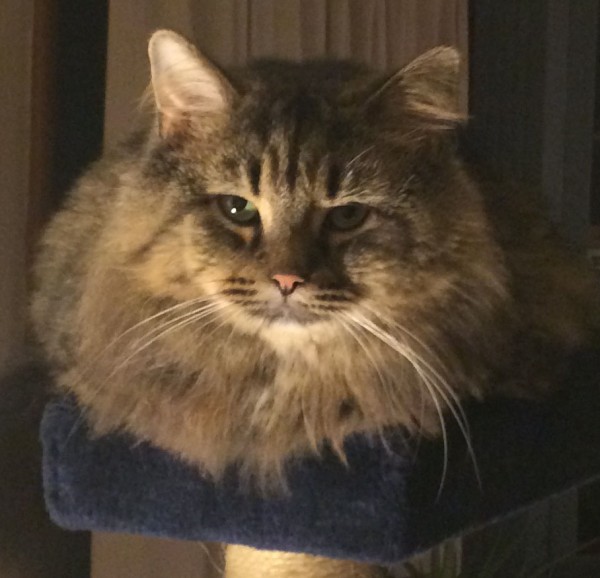 Here is a very freshly groomed Steve, relaxing on the top perch of the cat tree. And when I say groomed, I mean we spent the day at the kitty spa getting the works. Why? Why I shall tell you.
Last night at around ten o'clock, Steve decided to have diarrhea on Shawn's floor and got it all over his entire ass end and tail, and then proceeded to do the doggy butt scooch (you know how they drag their ass across the floor with their front legs because their anal glands are full) from Shawn's room, down the hallway, all the way through my office until he was underneath my desk, leaving a foul smelling brown streak across half the house. It was seriously the most disgusting thing I have ever seen an animal do, and I have been puked on, stepped barefoot in vomit and dog shit, pulled a dessicated cat turd out of Rosie's mouth, and so on. This episode seriously tested my gag reflex.
I got him somewhat cleaned up, steam cleaned the carpet, and then in the middle of the night he had it again in front of Shawn's door and got himself all messy again. Between the clumps that we could not get near his butt, and the new scented addition to the clumps, it was time for professional help.
When I got back to the groomer, I expected a blood bath, but Steve was just lying on his back letting the guy do the finishing touches. I was shocked he was letting him do that, and the guy said that he basically gave up after the bath. I did a "Say what?" because I didn't know they were going to bathe him, I thought they would just shave him. According to the groomers, it took three of them to get the bath done, and after that, his will was just broken.
Pets. He does look absolutely glamorous, though, and it was worth the 60 bucks.