Via Jezebel, the story of a missed opportunity to be well rid of bad rubbish:
Upon hearing that [Westboro Baptist Church] WBC intended on protesting the funeral of Robin Williams (because of course they would) Australian comedian Adam Hills challenged the hate-group on his show The Last Leg. Via the Advocate:

"If you really believe in standing up to those threatening the Christian way of life, Westboro Baptist Church, how about putting your money where your mouth is, taking a direct flight to Iraq [to protest ISIS]," he said this week, also offering to pay for first-class airfare.
Naturally, many people offered to donate money to help ferry the WBC loons to their doom. In response, WBC tweeted the following:
We accepted! Whence tickets? @PhilCooke: An offer to fly WBC members 2 Iraq 2 protest. Sounds like good idea to me.
But then Hills demurred and donated the cash raised online to worthy causes instead. Fuckitty fuck. Sometimes being a non-sociopath is just no fun at all.
Speaking of the bugfuck-crazy ISIS/ISIL fucks, it looks like the authorities may have already figured out the identity of the sick fuck who sawed that unfortunate journalist's head off. I successfully avoided all but about five seconds of media rebroadcasts of the snuff film excerpts, but when I heard the murderer's voice on the news, I figured it wouldn't take an 'Enry 'Iggins to place his accent and thus significantly narrow down the vast pool of religion-crazed sociopaths from which he slithered.
I'm not crazy about our drone program (or US meddling in that part of the world in general), but development of a Hellfire missile capable of targeting based on dialect and the proximity of AK-47s starts to sound like a good idea. But that money could undoubtedly be better used weeding violent, racist dickheads out of domestic police forces or funding universal pre-K. Le sigh.
This is one of those scenarios that tend to separate liberals from conservatives, I think. It's easy to hate people like that sadistic, head-lopping Johnny Jihadi asshole. It's understandable to have a knee-jerk desire to see a Hellfire missile light his ass up, just as it's possible to understand why commenters on murder case stories in newspaper sites share their lurid fantasies about what THEY would do to the killer.
But the difference between most liberals and hardcore wingnuts is that we get that our knee-jerk reactions aren't a sound basis for policy. Like I said, sometimes being a non-sociopath is just no fun at all.
Unrelated: I made shrimp étouffée last night. It was good: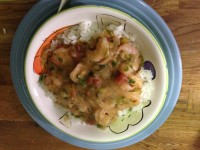 In my recipe, I use a tiny bit of filé powder, which is usually used in gumbo, not étouffée, but I like it in both. Anyway, in my étouffée recipe, timing is very important. If you don't have all your stuff lined up ready to add at the proper moment, you can screw up the entire dish, which would really suck after hulling all those fucking shrimp, boiling their stinky-ass shells to make stock, chopping all those fucking veggies and whisking that goddamn roux for half an hour.
I thought I had filé powder within arm's reach, but then I couldn't find it at the critical moment, so I was casting about for a substitute online. Before I got far into that process, I was informed that I did have filé powder after all; a certain person had merely failed to put it back where it belongs after he used it. So, dinner saved.
But during the 30 seconds in which I contemplated filé powder substitutes or forgoing it altogether, I learned that filé powder is ground sassafras leaves. It occurred to me that I'd been using that ingredient for years without the foggiest notion of what it was. For all I knew, it was the dried and powdered form of the scrotal secretions of musk rats.
How many other common ingredients fall into that mystery category? I was having dinner with a friend awhile back, and I ordered Caesar salad. He said he used to like Caesar salads until he found out there were anchovies in the dressing, and then he could never eat it again.
This wasn't because he's vegan or something — anchovies just gross him out. When I pointed out that Worcestershire sauce also has anchovies in it, he was horrified and vowed to never use Worcestershire sauce again. That seems really strange to me. Have you ever found out about a mystery ingredient in a food that made you unable to ever eat it again?
Please feel free to discuss whatever.