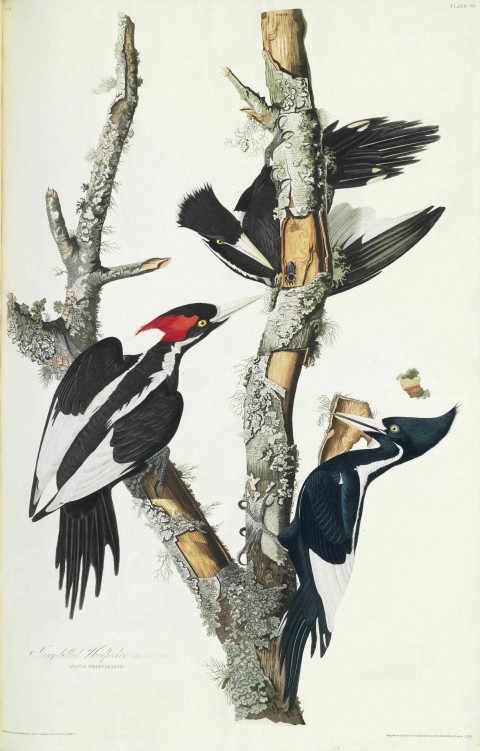 A nice start to what might be a tolerable week* comes in the form of a message from Harvard's rare books collection, the Houghton Library.  Its collection of 114 early J.J. Audubon drawings is now online in high resolution.  Among the treats, a depiction of two Ivory Billed Woodpeckers, the "lord god bird," having their way with a tree.
According to the announcement, these early drawings are rare/of heightened interest because of Audubon's practice of destroying sketches and alternate versions after selecting what he saw as the best of any subject.  The earliest images in this collection date back to when Audubon was 18, and, says Harvard, they probably survived Audubon's rolling erasure of his tracks in the hands of one of his patrons.  In any event, the images are gorgeous, and there for the gazing.
That said, the image above is a later Audubon not from the Houghton collection, as Harvard requires permission from the curator before reusing their images. I'm asking for same; if I get it, I'll add one from this trove.
*Hah! Who am I kidding.  There are still Republicans with actual power!
Image:  John James Audubon, Plate 66 of Birds of America, depiction of the Ivory Billed Woodpecker, 1838.