I've tried to avoid marinating in political punditry as best I can over the last few days…longer, really. Who wants to watch ambulatory genital warts like Ron Fournier and Byron York fabricate elephant-themed window treatments for Harry Reid's office? Nope.
There are trend pieces on how President Obama needs to play ball with Republicans (where "ball" = "unpinned grenade" to anyone who has paid even the most cursory attention for the past six years). But I haven't seen much on why non-Republicans are even within striking distance in deep-red states like Kansas and Georgia. Why is that?
Here in Florida, we appear to have a better-than-even chance of ousting Governor Voldemort. Of course, it's disgraceful that it's even close, but here we are. My hope is that the little electric fan was the seventh Horcrux. Should Crist prevail, there will be great rejoicing at the Cracker Compound.
Among his many hideous offenses as a human being, governor and fashion icon, Governor Scott wears cowboy boots emblazoned with the official Seal of the Great State of Florida. No, really — I'm not making this up: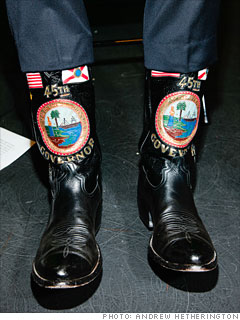 The better to stomp our rights with, my dears. It makes me happy to picture him watching the returns Tuesday night and then ripping the boots off and flinging them into the back of his 1,500 square-foot closet in a snit when he realizes the voters have used their own boots to kick his worthless, thieving ass to the curb. Please make it so, FSM.
Please feel free to talk about whatever.