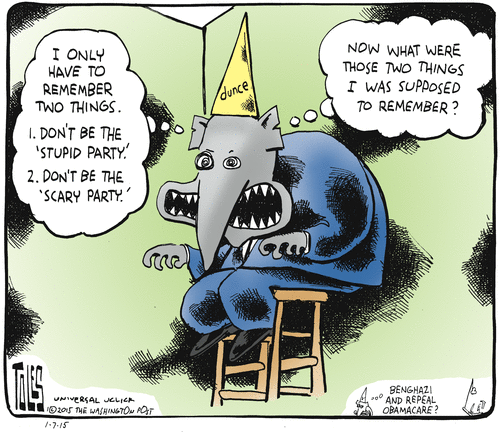 Dana Milbank sums up the "Conservative pests [who] swarm John Boehner on Congress's first day":
… Twenty-five conservatives — more than 10 percent of the Republican caucus — rebelled against their leader on the first day of the new Congress. It was the largest revolt against a House speaker in more than a century, and the rebels were within striking distance of the 29 votes they would have needed to deny Boehner the speakership — if all sitting members of the House voted.

But more than two dozen were missing when Congress convened at noon, a few because of snow-related travel delays but most of them Democratic members of the New York delegation who were attending Cuomo's funeral. Because the speaker is elected based on the majority of those voting, this reduced the number of votes Boehner needed from about 218 to 205 — and the conservative rebellion fizzled before it ever had a chance…

It was conservatives' last, best chance to disrupt Boehner and his leadership team. Right-wing interest groups had pushed for the rebellion against the speaker Monday, claiming it was the most important issue to tea party activists since Obamacare. Conservatives saw it as a crucial time to make their stand because, now that Boehner has the gavel and the largest Republican majority in decades, he can afford to ignore the roughly two dozen die-hard conservatives in his caucus — if necessary, recruiting Democrats to offset their "no" votes on legislation….
And the stalwart RWNJs True Conservatives have learned from this — what?
First action as Chairman. Subpoena Eric Holder on Fast & Furious. @GOPoversight #FastandFurious pic.twitter.com/1xtH4kLMQB

— Jason Chaffetz (@jasoninthehouse) January 6, 2015

***********
Apart from watching our opponents proving the old saw about doing the same thing over and over, what's on the agenda for the day?