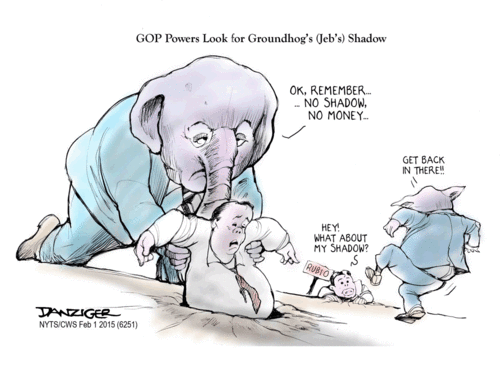 Jeb Bush's nascent coronation within the Republican "establishment" is beginning to sound more like Oscar Wilde's quip about "an excellent man; he has no enemies, and none of his friends like him."
As soon as Romney acknowledged — for now — that he didn't have the mojo to survive another primary season, Politico had a cover article reminding everyone of Jeb Bush's indefensible cruelty during the Teri Schiavo fiasco ("Jeb Put Me Through Hell"), and the front page of the Sunday Globe reported that Jeb was a lazy, pot-smoking prep school legacy who bullied smaller students because "he understood that he was from the world that really counted and the rest of us weren't."
The NYTimes, on Friday:
… A key question, given the early strength demonstrated by Mr. Bush and his network, is whether there is room for a candidate of similar policy views, such as Gov. Chris Christie of New Jersey or Senator Marco Rubio of Florida, to emerge. So far, Mr. Bush has fared well among the party's moneyed donor class, but its grass-roots activists, crucial to the early nominating states, have yet to coalesce around any candidate in a still evolving field…

The campaign to deny Mr. Romney another chance began almost immediately after he mused to donors at a Friday get-together in New York City on Jan. 9 that he was open to the possibility of another run. By that Sunday afternoon, William Oberndorf, a prominent California investor who supported Mr. Romney in both of his previous presidential campaigns, had emailed a group of 52 powerful Republicans, including former Secretary of State George Shultz, the investor Charles Schwab, Gov. Bruce Rauner of Illinois and the Michigan billionaire Betsy DeVos with a blunt message: we need to support someone else.

Mr. Oberndorf wrote: "We are fortunate in Jeb Bush to have an extremely talented and able candidate who, I believe, has a far better prospect of winning a general election than Mitt. Moreover, Mitt has now run twice and has had his chance to be president. It is now time to cede the field to others."…
Another NYTimes story over the weekend, on the same theme:
… Many donors may look for alternatives to Mr. Bush and Mr. Christie simply to ensure that they have a seat in the candidate's inner circle. Mr. Bush's fund-raising operation, in particular, is already dominated by two generations of Bush family retainers and supporters…

"It sure changes the ballgame, doesn't it?" said Frank L. VanderSloot, whose Idaho-based health-products company contributed $1 million to the [2012 Romney] super PAC. "The top ones that have my interest would be Marco Rubio, Scott Walker and Jeb Bush. In my book, Chris Christie is out of it."…
Lo and behold, by Monday morning, Chris Christie is not only "Blind to the Future," a party hack who defaulted on desperately needed public infrastructure out of spite, he's got a career-long "Fondness for Luxe Benefits When Others Pay the Bills". Never let it be said that the Bush Clan isn't efficient, at least when it comes to disposing of the competition…
Is this efficiency enough to force the GOP base to accept another banquet of Velveeta on Wonder Bread toast points, chicken ala king over mashed potatoes, and fruit salad in lime jello? Well, the Koch brothers have their own big money network, and they've said they like Marco Rubio. But the Kochs already own Scott Walker, and as Washington Post horse-race tout Chris Cillizza is happy to point out:
… So far in this cycle, Drudge has been hard on Bush (highlighting lots of stories that suggest the former Florida governor isn't all that conservative) and quite kind to Walker… If Drudge continues to push Walker, it will matter in terms of how the Wisconsin governor is regarded by Republican politicos. Ditto Bush — although to a lesser extent because Bush is such a known commodity in Republican circles. (Ask any nascent campaign for the GOP nomination whether having Drudge "like" them matters. If they say anything but "yes," they are lying.)…
It's still seventeen months and counting until the GOP convention in Cincinnati, and another dozen or more contenders to vanquish. (I'm not giving up on Rick Sanctorum just yet.) But as a lifelong Democrat, I devoutly hope Jeb and Scott bang each other up every single day between now and then, before imploding in a massive black hole of anti-charisma.