Update: see the error correction (in bold) below.
Attention conservation notice (h/t Cosma Shalizi): This post may well be inside baseball for folks in and around the media game.  Make your reading decision accordingly.
I know a lot of people who are both tremendously fortunate and terribly abandoned today. They are the ones who knew well David Carr,who died yesterday.
You can find testimony today to the depth of feeling Carr, the New York Times' media correspondent, inspired across the mediascape among those who worked with him, knew him, benefited from his kindness and his rigor .  Here's A. O. Scott's obituary; Anthony De Rosa's remembrance; Muck Rack's compilation of tributes; Weigel's take. I'm sure there's much more — this is just a semi-random starter kit as it came over the Twitter cascade.  Speaking of Twitter, Seth Mnookin's tweet stream is hard for me to read, only because the loss there is palpable; Ta-Nehisi Coates is as sharp as we've all come to expect. And for the man himself, this sampler of quotes is as good a place as any to begin to measure the loss (more here) — but the snap of one liners (or two or three) shouldn't obscure the work itself.  He was a great and meticulous reporter — and, to my eye and ear, a better writer.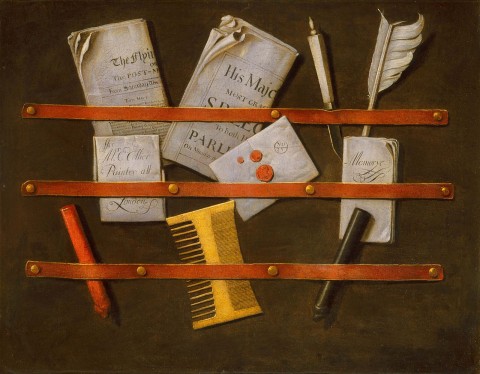 I've got nothing really to add to the tributes above, and those flowing in from all over the mediascape.  I met Carr once, a couple of years ago.  Ta-Nehisi was a visiting scholar at MIT then, and Seth was and is my colleague in the science writing program.  Carr had hired and molded both of them at critical points in their careers, and they invited him up to give a talk. (Alas, not recorded. Damn.)  I was there, and went out for the ritual post-colloquium dinner.  Carr was great in both settings.  Talking to him at the restaurant, I was struck by what those who knew him much better keep emphasizing:  he was a magnificent listener, which helped make him the formidable reporter he was.  With old friends he would banter and bust with the best of them. But with those he hadn't met, like me, he's peel back layers of conversation ever so gently, utterly implacably — you never felt the probe until it was lodged in your intestines.
My impression of him on that one meeting again tallies with all the actually informed stuff you can read:  what a nice man! What a smart one! Tough as shit.
But that was it.  One conversation, a pleasant evening and off home in the night.  The sense of loss I feel as I write this is wholly disproportionate to that level of acquaintance.
I think I know why.  I've got a couple of possible reasons. The first is evidenced by the links above:  he was simply one of the best working journos around, and for very many on the job  he was proof that it was possible to be that kind of a reporter, that good a one.  Recall, he was at the Grey Lady, the mothership, the freaking New York Times.  Can't get more establishment than that, and yet Carr was proof that you could be the kind of journalist for whom the story and not the status or the institution or the common "wisdom" was all that mattered.  You get the sense reading what Times folks have to say today that they really feel it — that the paper needed Carr as much as or more than the reverse, to keep front and center within the building what it can and should mean to write for the most influential newspaper in the English-speaking world.
The other reason is a bit more personal.  In the math wheeze, there is something called an Erdös number.  Your Erdös number is determined by how many people stand between you and a co-authored paper with Paul Erdös, a famously collaborative thinker who wrote papers with on the order of 500 colleagues.  If you were one of those co-authors your Erdös number was 1.  If you didn't, then you would get the lowest number of any of your co-authors on any paper +1.
Carr was a notoriously tough-but-fair mentor, and there's something of Erdös in him, in that those he trained carry something of his sense of what it takes to be a reporter and a writer into everything else they do.  I have the good fortune to know pretty well two folks with a Carr number of 1 — Seth and Ta-Nehisi, as mentioned above.  They are both writers, thinkers and people I admire enormously.   I take inspiration from them both.  Both of them have Ta-Nehisi told me several times what it meant to have Carr work him over at the Washington City Paper.   His body of work and more, the way they approach the craft as I've seen it up close bear the marks (block that metaphor!) that Carr left on their hides as they were learning under his unsparing eye. I'm taking notes all the time from those two (and many others, of course) — as I did and do from Carr's own writing.  So I guess in this loose sense I'd claim a Carr number of 2.   I can tell you, though, that the difference between 1 and 2 is not one of species or even genera…we're talking orders at least here.
It's a sad day.  But more, it's one that's bereft.  Carr left a circle of influence that vastly exceeds his already large circle of friends and fortunate co-workers.  The loss reverberates there.
Image:  Edwaert Colyer, Still Life, c. 1696.