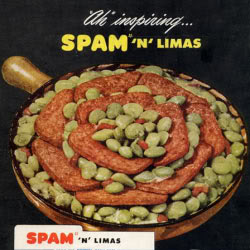 There's a place in my world for most foods, even unpopular items such as anchovies. But not Lima beans. My dad and I had a stand-off over Lima beans once when I was six-years-old or so. He made me sit at the table until I ate the portion that had been doled out to me. I held out for at least an hour, but finally I swallowed them one by one like pills to free myself from the dinner table.
I still hate Lima beans. I also hate pickles and pickled things of any type, including sauerkraut. I actually lost weight on vacation once because I spent time in Germany, and they pickle every goddamned thing.
What food do you hate the most? Open thread!