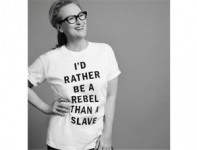 Just read this Vox article by Alex Abad-Santos about a controversy involving Meryl Streep, who apparently sparked a Twitter outrage fest by wearing, along with fellow cast-members of a film about the British Suffragette movement, a t-shirt with the slogan "I'd rather be a rebel than a slave."
The Vox article links to a Cosmo(!) essay by Gugu Mhlungu that's critical of Streep because of the shirt (as well as other comments Streep made about feminism; she prefers to be called a "humanist," apparently). Here's an excerpt from Mhlungu's essay:
The slogan comes from the famous speech by Pankhurst and the part from which the tee slogan is taken from is as follows:

'Know that women, once convinced that they are doing what is right, that their rebellion is just, will go on, no matter what the difficulties, no matter what the dangers, so long as there is a woman alive to hold up the flag of rebellion. I would rather be a rebel than a slave.'

But taken out of context, it's deeply problematic. Especially in the American context where during the American Civil War, the Confederates, who referred to themselves as 'rebels', came from the Southern slave states and fought for their right to own slaves. So Meryl appears to be wearing an item of clothing that says 'I'd rather own a slave than be one'.
Emphasis mine. I roll my eyes along with Mhlungu at people who equivocate about the label "feminist," which should be embraced by every person who believes women are fully human. But back to the shirt: Why isn't the onus on the people who view the image sans context to find out the context before proceeding directly to outrage? It's a fairly famous quote.
Abad-Santos also seems to assume that readers will share his view that wearing the shirt was an affront, or at least a PR debacle that Streep should have avoided:
Streep hasn't commented on the shirt. She probably won't, since Time Out has taken responsibility with its apology. But like the context of the quote, that apology pales in comparison with the image of the most recognizable and respected American actress of the past 30 years wearing a T-shirt her publicist shouldn't have cleared.
And Mhlungu ends with this:
Although probably well intentioned, this Suffragettes movie campaign shows why intersectionality is so important if our feminism will mean anything.
I thought I understood what intersectionality means, but I guess I don't, or at least not in the way Mhlungu and Abad-Santos understand it. I get that oppression around race and gender can't be fully understood as separate experiences because their combined effect is greater than the individual components. I also get that our feminist forebears weren't inclusive and that too many still aren't and that we should be.
But I don't understand why it's considered insulting or wrong or tone deaf for people in the UK — which is a whole other country, after all — to use words like "rebel" and "slave" without considering the context of the American Civil War, particularly when the use is related to a famous quote by a non-American historical figure (whom Streep was portraying in the movie, doubtlessly with an absolutely flawless British accent).
My initial take is that the outrage is a stupid example of the social media "call-out culture" that I find annoying as hell as I settle into my dotage. But! I sometimes find when I'm rolling my eyes at kids today with their stupid tweeting and misplaced outrage, etc., I'm actually missing something important — particularly when it's an issue involving race — because middle-aged white lady.
So, I'm asking with all sincerity: What am I missing here?