I don't know about you, but this week flew by for me. I can't believe it's already Friday but am happy about it nonetheless. Got any big plans for the weekend? We'll probably just hang around recovering from our various stages of the not-flu illness that is sweeping the country.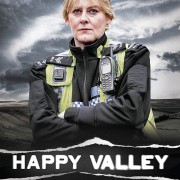 Got any good Netflix / Prime recommendations? I plan to binge-watch season 2 of "Happy Valley," an excellent Netflix original crime drama featuring an acerbic, middle-aged Yorkshire policewoman whose life makes the biblical Job's existence look like a jaunt at Club Med. Will try to catch up on "Better Call Saul" as well. And finish one of the three books I've got going.
Feel free to discuss your favorite shows, preen about your moral superiority because you don't watch TV or talk about whatever. Open thread!