Hey y'all.  Some mid-morning entertainment here.
I'm home today with a pair of bum knees (bursitis flying out of control) and — as I've compensated for my bad wheels — spasms around a bulging disk around L4 or L5.  I feel like a water heater with a ten year guarantee staring glumly at my eleventh birthday.
But it's hard to complain (actually, it's not) when these are actually minor and remediable dings.  So I'm getting on with things.  First task to do was to get a standing desk going.  I've got one of these at my office and it works fine, but at home it's just the kitchen counter, which isn't quite high enough.  So here's my solution: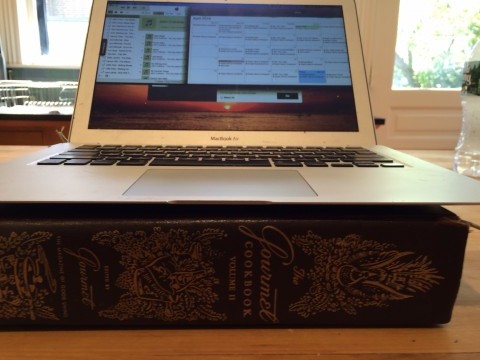 For those straining to read my crap photo, that's Vol. 2 of the Gourmet Cookbook from 1957.
My favorite recipe in this particular tome — and what I find to be something of a metaphor for this election? That would be his one: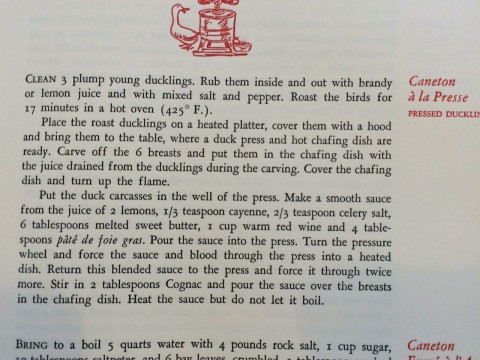 "Turn the pressure wheel and force the sauch and blood through the press…"  Sounds about right.
And finally, for a little bit of sheer madness, here's something from Alain Ducasse's Flavors of France.  I picked this up years ago at a used cookbook sale for something like five bucks.  I've yet to make anything out of it; I chose it for the utter decadence of both recipes and photos.  True "don't know how to define it but know it when I see it" food prön from soup to nuts.  To keep within the bounds of my fowl obsession, here's Ducasse's ingredient list for boiled chicken: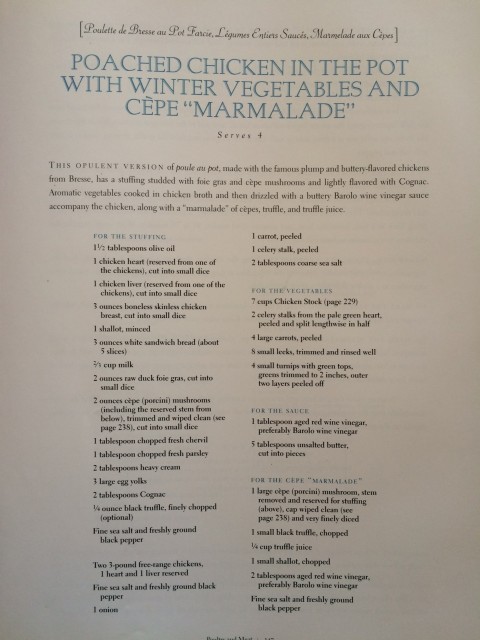 I mean, whut?
What's the most insane recipe you ever attempted (and what happened)?
Oh — and open thread.