…at least for now.
We have quite the potpourri this time. First up is something completely different. A podcast I really thought some of you would enjoy.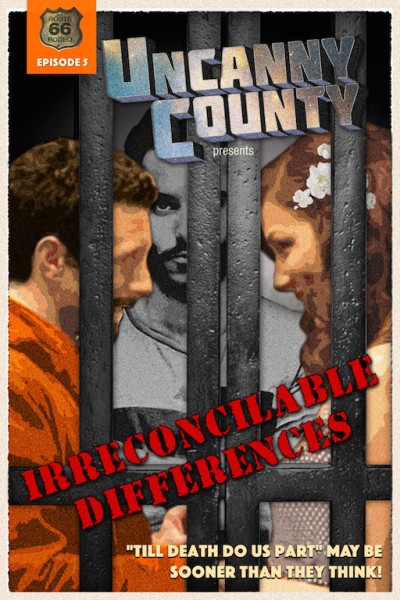 Kind of like 21st century Twilight Zone episodes. This quirky, darkly comic, Southwestern-flavored anthology brings you a new paranormal audio play every month. Sit back, relax, and hold on tight. Because you're about to take a quick detour…through  Uncanny County…
There's more…
=========================
Next up is Paul Wartenberg: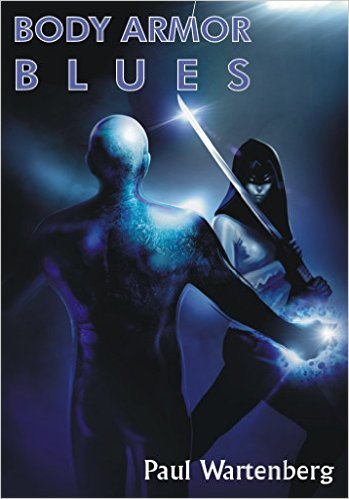 Body Armor Blues: There are superheroes in the world, people with Talents, and the ones who choose can get to train and suit up to work the streets fighting crime and saving lives.
Sometimes, though, there's a problem suiting up. Even with powers, those would-be heroes need to protect themselves with the best armor they can get. But one young woman training up in 1993 is finding out that some armors can't fit her needs, and she might not even get the chance to save the day.
Good thing she's bumped into another Talent able to help her out.
=========================
Silly Luther Siler thought his sci-fi books might not be a fit. I'm pretty certain he's mistaken, so I've included both his fiction and his non-fiction works today.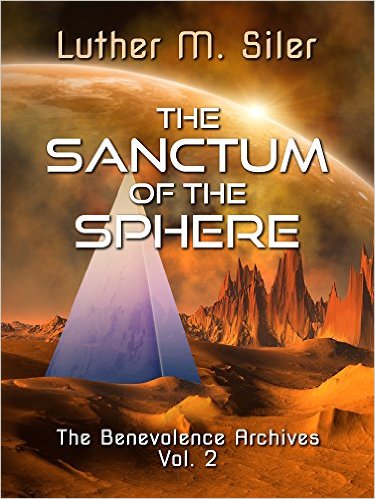 The Sanctum of the Sphere: Troll evictions! Dwarf pirates! Daring rescues! Angry gods! Impossible technology! Oversized bars! Pissed-off ogres! Disrespectful spaceships! All this and a mild disregard for proper wound treatment!

THE BENEVOLENCE ARCHIVES, VOL. 1 is a novella-length collection of six short stories set in a common universe. Combining elements of space opera-style science fiction and high fantasy, THE BENEVOLENCE ARCHIVES tell the adventures of Brazel, Rhundi, and Grond, a gnome/halfogre team of smugglers.

THE PLANET IT'S FARTHEST FROM: A simple job in a saloon goes poorly for Brazel.
THE CLOSET: Brazel and Grond are hired to teach someone why gambling can be a bad idea.
YANK: Dwarven pirates. 'Nuff said.
REMEMBER: Brazel and Grond are hired by one of the galaxy's most powerful people for a suspiciously easy job.
THE CONTRACT: Rhundi tries to get through a simple business negotiation without anyone being shot.
THE SIGIL: Brazel and Grond encounter something horrifying on a frozen rock in the middle of nowhere.
His non-fiction work takes us into the world of modern education. As someone charged with grading standardized tests for a while, I look forward to reading this one.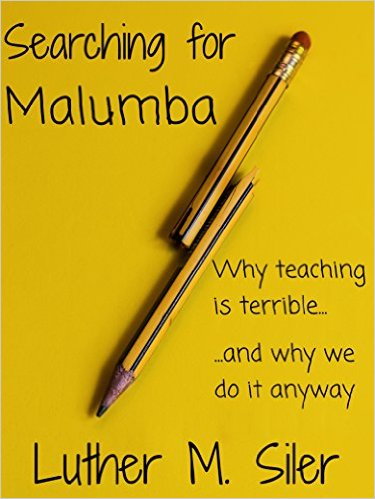 Searching for Malumba: Why Teaching is Terrible..and Why We Do It Anyway

Luther M. Siler's long-awaited book about teaching, SEARCHING FOR MALUMBA collects nearly 150 of the best of his essays and blog posts from 15 years of writing about American urban education. Alternately hilarious, sad, furious, horrifying, and touching, as well as frequently profane, Siler's writings shed a light on the reality of teaching in America's urban schools during the reign of the No Child Left Behind Act and the rise of standardized testing. Available as an ebook and in print.
=========================
Carol Van Natta has a few books that can all be found here.
From her author's notes: Carol is an independent science fiction author. Works include the Central Galactic Concordance space opera series—Overload Flux, Minder Rising, and Pico's Crush—and the retro science fiction comedy, Hooray for Holopticon. She shares her Fort Collins, CO home with a sometime mad scientist and various cats. Any violations of the laws of physics in her books is the fault of the cats, not the mad scientist.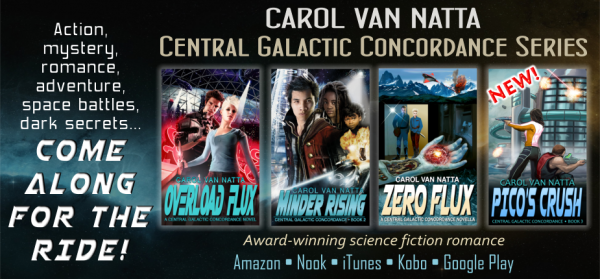 Let's start with Overload Flux
Forensic investigator Luka Foxe and security specialist Mairwen Morganthur fight corrupt pharma corporations, murderous mercs, sabotage, and deadly space battles, and must trust each other with dark secrets if they hope to survive.

Stability has reigned throughout the Central Galactic Concordance for two hundred years, but trouble is brewing. A new pandemic is affecting hundreds of civilized planets, and someone is stealing the vaccine…

Brilliant crime scene investigator Luka Foxe has a problem. His hidden mental talent is out of control, making him barely able to function in the aftermath of violence, and the body count is rising. The convoluted trail leads to a corrupt pharma industry and the possibility of an illegal planet-sized laboratory. Faced with increasing threats, Luka must rely on an enigmatic, lethal woman he just met, but she has enough secrets to drag a ship down from orbit.

Mairwen Morganthur hides extraordinary skills under the guise of a dull night-shift guard. The last thing she wants is to provide personal security for a hot-shot investigator, or to be plunged into a murky case involving deaths, murderous mercenaries, sabotage, treachery, and the military covert operations division that would love to discover she's still alive.

Two more lives in a rising death count won't bother their enemies one bit. Their only hope for survival lies in revealing their dark secrets and, much harder, learning to trust one another.
=========================
And the final submission is from Alan Flurry: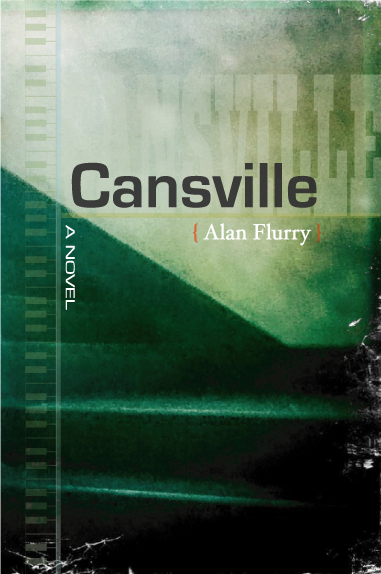 From his author page: Born in 1968 in Savannah, Georgia, novelist and filmmaker Alan Flurry is a distinctive new voice in American literature. His often cinematic approach to literature now takes to the stage in Cansville, a playwright's journey into the fevered dream that is the slowly unfolding act of creation.
Cansville: When Toby Alameda begins a stint as creative director of the Cansville Theatre in Louisville, Kentucky, he sets about to reconstruct the story of his boyhood home and the extended family that had lived there. The structure itself had been expanded from a modest farmhouse where his family took in relatives during the Great Depression. By the time the young Toby was practicing archery in his upstairs bedroom two generations later, the great emptied house had so grown into his being that he hardly gave it any thought.

The folly of melding imagination and memory wends through the characters and local actors as the house comes to life upon the stage: the transvestite, Grey Calhoun, who will star as his beloved cousin, Virginia; Darling Forrest Nixon, wife of the theatre owner and aspiring muse to Toby; the old, empty LBJ Hotel where he rents a room on the top floor; and Charlotte Brown, maid in the hotel whose piano playing moves the play toward music and Toby toward the play's completion.

The plot of the novel is Toby's attempt to make up a story he already knows; it builds with the writing of the play and culminates in the day before the premiere of "The Big House.
=========================
That's it for now. I'm still on board if you want to have a monthly reading thread to discuss favorite books. All the previous Authors In Our Midst can be found here.
Hopefully our authors will show up to answer any questions you might have. What's on your bookshelf these days?