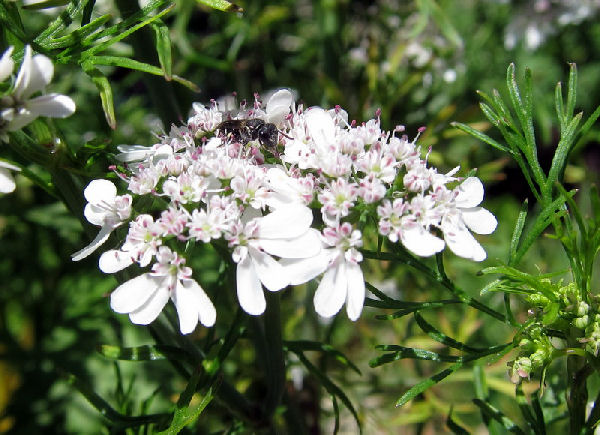 From commentor Mental.Masala:
The most exciting thing to happen in my S.F. Bay Area garden is the result of my laziness and the unstoppable drive of plants to make seeds. The parsley plants in my raised beds have been exceptionally healthy and are flowering profusely. I also have some volunteer cilantro that quickly bolted and is also flowering. Both plants make wide platforms of tiny flowers, much like a Queen Anne's Lace. The bees, flies, butterflies, dragonflies and other pollinators love the parsley and cilantro, especially the small native bees like the one in the photo. Once it warms up each day, the area around the flowers is abuzz with many species flying around and feeding.
After my last plea, I got an email from commentor Peter Cook:
I'm a longtime reader, occasional commenter, and all-around fan. I put up a post on my blog today about ripping out my front yard and replacing it with a big vegetable garden. I'm hoping you find it worthy of mention in the next Garden Chat…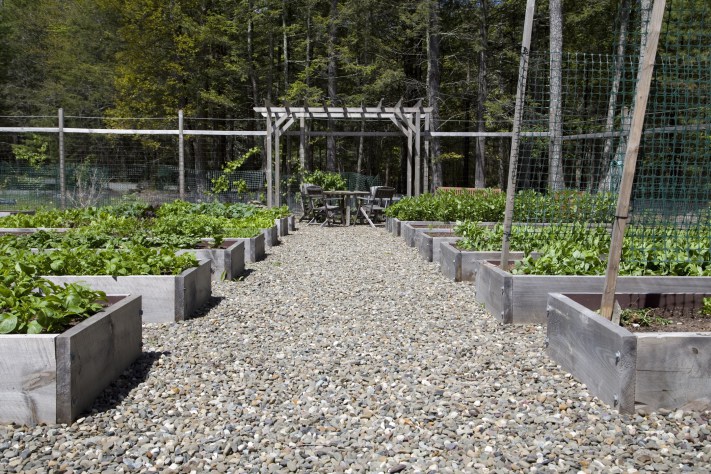 Front yards are overrated. Sure, it's good to have some grassy space to kick a ball or toss a disc with the kid, but otherwise lawn is a waste of square feet and resources, especially water. Rip out the grass, run a nice fence around it, and build some raised beds, though, and you've got yourself a one-stop shop for food, physical activity, neighborly sharing, and epic curb appeal.

This garden takes up just about the entire former front yard of the new house, including the path to the front door from the driveway. We and any visitors have to walk through it every day, and I wouldn't have it any other way… It provided enough vegetables to get us through this entire last year without buying anything but a few guilty pleasures like artichokes. (I know they can be grown here, but it's a two-year job and I haven't gotten around to it yet.) Between the freezer, which held vacuum-bagged greens of all descriptions plus a ton of pre-chopped mirepoix, pestos, salsas, and chutneys from our modest fruit haul and all of the various fermented things—kimchis, sauerkraut, shredded carrots with coriander, minced leeks with Thai chilies, pickled beets—which sat in the basement and/or fridge, we were fully provisioned with enough plant food to inspire hundreds of excellent meals…

The garden is divided into three main zones. The first is the 28 raised beds that make up the bulk of it. Of these, two are now devoted to strawberries; initially it was just one but they're too good. I also transplanted a bunch of runners into the blueberry bed. That bed, plus the perimeter beds both inside and outside of the big fence, make up the second zone: fruit. Various currants, plus gooseberries and jostaberries (a currant-gooseberry hybrid) make up the underplantings, while above them I have espaliered plum, pear, and cherry trees. Hardy kiwis live in one little corner bed, and I have three kinds of native table grapes planted along the outside of the fence near the pergola; they made it close to the top last year and should begin to cover it (and fruit) this year. There's a thornless blackberry patch outside the other corner, and a bed each of rhubarb and asparagus. The old garden in town had those two crops outside the fence and the deer ignored them; the deer here in the woods are hungrier, with less landscaping to eat, so they go after everything. I wish I had known that before I locked in this design, since the retrofitted fencing is not beautiful.

The third zone is the herb garden, between the stone walkway and the house. The only noteworthy plantings the previous owners added were in this area: savory, chives, lavender, thyme, and sage. I left all those right where they were and augmented them with more perennials: lovage, four kinds of mint, two oreganos, tarragon, anise hyssop, marjoram, wild garlic, and nasturtium (not a perennial, but they reseed themselves so same difference). I also planted sand cherries, beach plum, peaches, goji berry, elderberry, and a fig tree in this area, plus lots of day lilies which are both edible and beautiful. The bees—not ours, our neighbor's—love this part. Watching them gangbang the savory and anise hyssop flowers at their peak is quite something…
Seriously, click over and read the whole thing; it includes lots of helpful technical advice, and more pics, including a layout plan to help you visualize things.
***********
Very inspirational reading for this much-less-ambitious front-yard gardener… well, growbags-on-the-asphalt-driveway-extension gardener, if I'm gonna be precise. At least I've finished transplanting all my mail-order tomato plants [note to self: ordering from five different companies is a bad idea, no matter how lavish it feels in February]. Lugged many 32gallon bags of fresh potting mix, slide-puzzled thirty-odd 10gal & 15gal rootpouches into wobbly rows in a configuration where all the plants get as much sunlight as possible and I can do most of the future tending & picking sitting down. Located all the bits to get the lightweight coiling hose and my favorite front-trigger nozzle hooked up to the one outside faucet around the back side of the house, and installed most of the tomato ladders. Some of the plants already have gumball-to-golfball-sized fruits swelling!
This afternoon, if I can finish getting those ladders into the bags without accidentally sheering off any tender vines, and then make a chart of where all the individual varieties from all the different companies ended up… well, then I can start the long process of tidying up the neglected flower-garden half of the front yard. It never ends!
What's going on in your garden(s), this week?