I had to head to the big city to go to get stuff I couldn't find at the general store (produce and the like), and had to stop for this: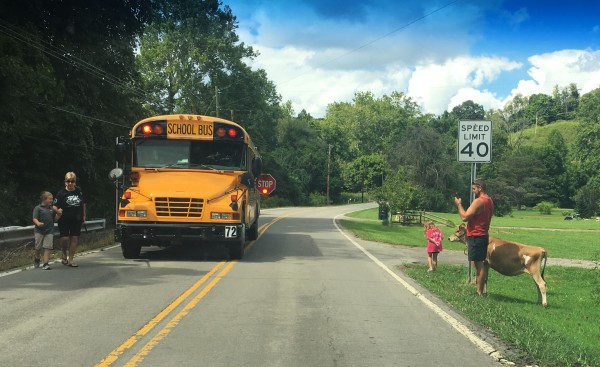 In West Virginia, mom, dad, sis, and the calf meet junior at the bus stop on the first day of school. I just love that I was able to capture this happening.
Too Walter to the vet for his shots, a final checkup, so more pain meds, and a health certificate, and, because no good deed goes unpunished, despite taking a walk prior to loading Walter where he did two bm's and three potties, he took a ginormous shit in the back seat and then proceeded to sit and walk in it and grind it into every square inch of the back seat. It's embedded in the seams of the leather, in the slots for the seat belts, in the carpet on the floor, everywhere. As soon as I smelled it my internal monologue was "NO NO NOOO NOOO NOOO PLEASE DON'T HAVE DONE WHAT I THINK YOU DID." I pulled over, and he had.
I have pictures of it (because of course I do), but I'm not going to post them because I don't want the website turning into Dogshit Afficionado. I got him cleaned up enough to go in for his appointment, and hosed him off and got most of it cleaned up, but I am going to have to take this to a professional and pay to have it surgically cleaned. Despite my best efforts, there is still mashed in dog shit in places I didn't know my car had places. It's always fucking something.
Got Walter in, and they oohhed and ahhhed all over him, and we weighed him, and he is now 87lbs. He was 63 lbs just 17 days ago, and we think he needs to be about 95lb to be at his perfect weight. You can still feel his spine.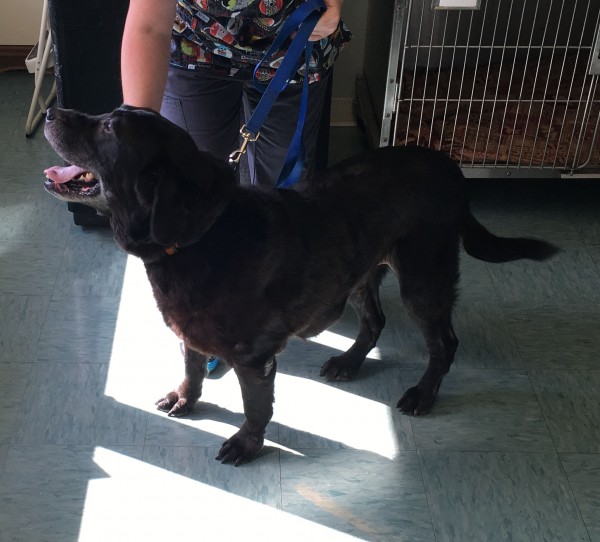 He got all his immunizations and I got all his records and a list of everything that has been done the past few weeks and a health certificate so he can travel on Saturday, and everything is going great with our boy. The nurses gave him some goodbye treats and kisses and shed a few tears (Monica cries about everything- I just love her to death. Whenever a pet is put down she sits in the room and cries with the owners. She's just an angel.):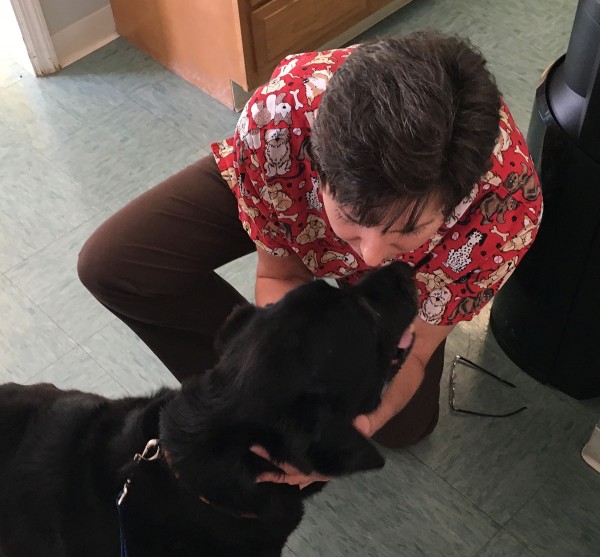 So, everything is set for a safe transport on Saturday. I got a new bottle of Remadyl and need to pick up a new bag of Science Diet so Deb does not have to rush out and buy food the moment he shows up, even I figure she probably will run to the store anyway to buy treats and toys. Also need to pick up a couple bones for his ride.
At any rate, I am off to take a shower BECAUSE FUCKING GROSSNESS HAPPENED IN MY CAR and then take a nap.