Here's a rare treat for you late night/early morning juicers! The driver and Debit decided to just get everything done tonight so Tim could head out early tomorrow when he woke up, so Deb put on a pot of coffee and I stayed up to get some pictures. So here you go, hot off the presses: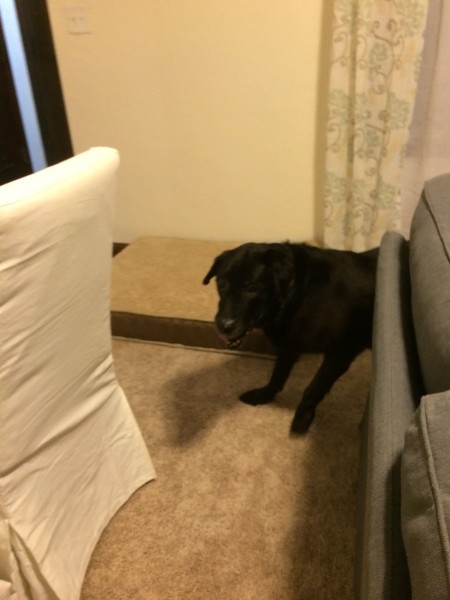 She said he kept moving a lot, exploring everything, so it was hard to get a good picture. That made me rejoice, because it will be nice reading you all complain about someone else's photography for a change. Then she sent me this adorable picture, which kind of screwed that all up: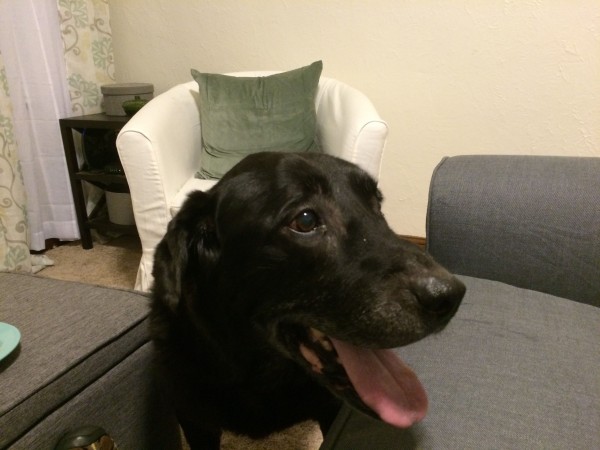 I dunno if I did a good enough job with my descriptions and pictures of Walter, but this really captures his essence. He's just a happy boy and sweet old fellow. Like I said, he's got a little hitch in his giddyup because of the mistreatment and the three bad knees, but he's chock full of spirit, got a million dollar smile, adorable summer teeth (some are here, some are there), and a real twinkle in his eye. He's got a life in him for an older dog, and he's going to make Debit a good companion. The cats are going to be sleeping with the old gentle fellow in no time.
Now y'all control yourselves and give Debit until noon tomorrow to fill you in and don't raise a fuss in every comment thread. She needs to get some sleep. You know how we olds are when we stay up past our bedtime.