Well, I'm involuntarily ashore, having cut short my houseboat vacation due to Hurricane Matthew. Part of our intended route is now in the Cone of Doom, so relinquishing the boat early seemed like the responsible thing to do. But it was fun while it lasted. Here's a view from behind the wheel: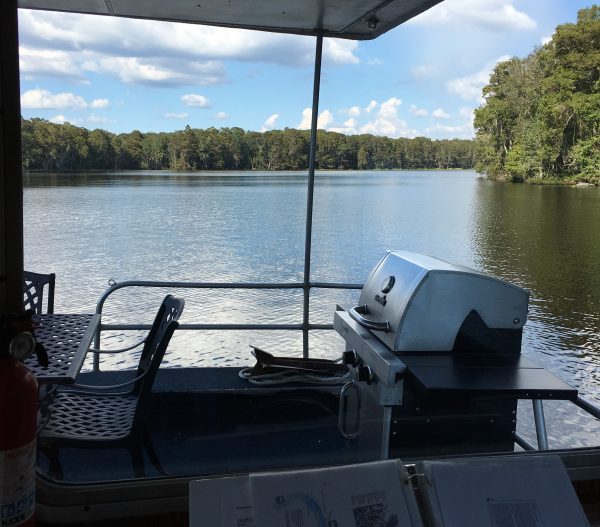 Here's a gorgeous spring we swam in a couple of days ago: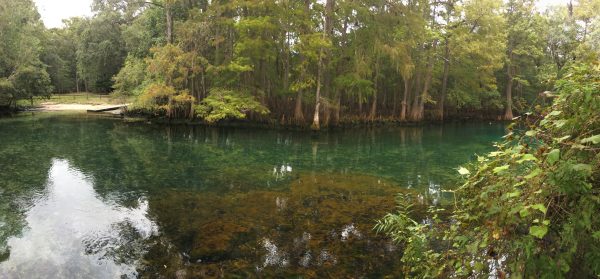 The spring water is icy cold, and it blows out of the opening in the limestone at such a rate that it's difficult to swim down toward the bottom. The water in the spring and run from the spring to the river are clear, as you can see. But we saw gators on the banks of the river just outside the spring, so we had to look sharp to make sure they didn't decide to join us.
We've got a rain check for the houseboat and will definitely be back, maybe in early spring when the weather is good and hurricanes are unlikely. It's a fine idea for a vacation — the boats are not at all fancy but are roomy and well-appointed with all the mod-cons.
But when the winds picked up just a bit yesterday, I could immediately see how unpleasant it would be out on the water in a large, cube-shaped vessel. Even in a fairly minor squall. I hope everyone in Matthew's path is in a safer place.
Missed all the political hullabaloo for the last several days, but I did catch a bit of the veep debate on radio. Pence lied about pretty much everything, but I guess that doesn't matter. Can't wait for this election to be over.
Open thread!