Happy Almost-Halloween, Juicers!
I present, in all his dark majesty, the Vegan Black Metal Chef:
I love this guy! And I love his cookbook because he explains exactly what to do AND what not to do AND why. It's a great cookbook for anyone, but especially newbie cooks.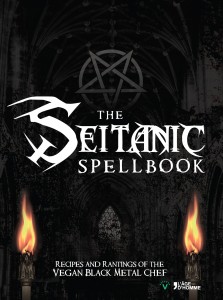 Like any good seitanist, the VBMC craves the harvest of innocent souls. And so he's gifting a cookbook to one lucky Juicer. Simply leave a comment and I'll use a random number generator to select the lucky sacrif—winner.
Only comment once or you'll be disqualified. OT posters will be damned to ride the It's a Small World boat for eternity. If you win, I'll notify you at the email address attached to your comment name.
Edit: You can comment any time through till midnight tonight (Eastern time).