One of the signal failures of the media throughout the Trump dumpster fire of a campaign was to focus on his words — parsing, shifts in terminology, trying to distinguish between lies and hyperbole, or simply providing theater criticism on his performances, connections to audience and so on.  All the while, the critical information: what the combination of his ample history, the (few) clear positions he staked, and the people he hired revealed about what Trump would actually do as President.
That basic error is still with us, nicely diagnosed in this post by Robinson Meyer over at The Atlantic:
It works like this: Donald Trump, the president-elect himself, says something that sounds like he might be moderating on the issue. Then, his staff takes a radical action in the other direction.

Last week, Trump told the staff of The New York Times that he was keeping an open mind about the existence of climate change.
This was, as Meyer notes, treated as a major shift, given Trump's earlier claim that global warming was a Chinese hoax.  As a result, many slow learners touted this story (Meyer self-indicts here.) But, of course, Trump's almost certainly intentionally vague statement —
"I think there is some connectivity" between human activity and the warming climate, Trump said. "There is some, something. It depends on how much."…
both grants him almost unlimited freedom of maneuver and was almost immediately belied by what his transition team is actually doing:
A day after Trump talked to the Times, The Guardian reported that the Trump administration plans could cut all of NASA's Earth science research….
…which, as many have already noted, is vital for ongoing climate monitoring and ongoing attempts to study the implications of human – driven global warming with the resolution needed to inform action.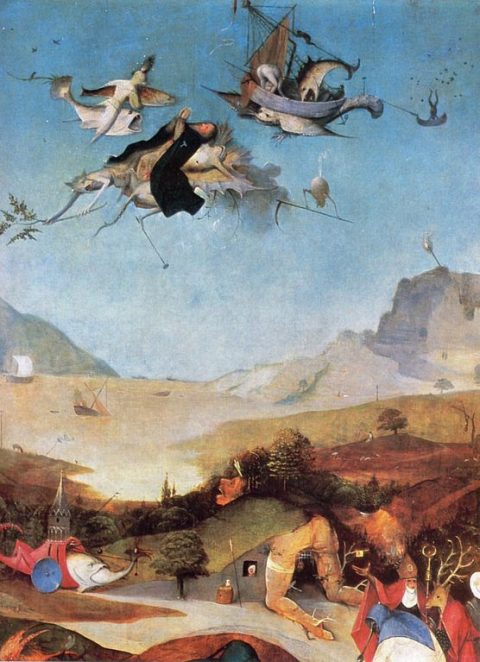 Then there's this:
Politico reports that the Heritage Foundation senior research fellow, Steven Groves, has been added to Trump's State Department transition team. Just last week, Groves called for the United States to leave the UN Framework Convention on Climate Change, the overarching treaty that governs how the world organizes itself to address global warming. Groves also said the U.S. should move to "dismantle" domestic climate regulations.
Thus, a picture of a Trump administration policy on climate change: destroy the research infrastructure needed to study climate, and wreck both national and international prospects for action to address what a true existential crisis.
The moral, to use Meyer's phrase, is that Trump is a master of the two-step, baffling the unwary (aka, seemingly, the entire New York Times staff) while proceeding behind that verbal smokescreen towards the worst possible choices.  We need a much more vigilant press, and a brave one.
Image: Hieronymous Bosch, The Temptation of Saint Anthony (left panel detail), 1495-1515.  Not an exact match to the post, but I'm kinda just looking for apocalyptic images these days, and this certainly works for that.