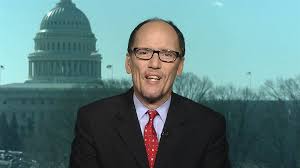 Looks like Keith Ellison will soon have some high-profile competition for the DNC chair position. Via TPM:
U.S. Labor Secretary Tom Perez will announce his candidacy for chairman of the Democratic National Committee on Thursday afternoon, according to multiple reports.

Perez is expected to make the announcement on a conference call with state party chairs, according to a source with knowledge of his planning cited in a CNN report.

The call was announced in an email sent Wednesday morning to supportive and neutral party chairs and vice chairs inviting them to an "informal discussion" about making the Democratic Party "more inclusive and one that represents all Americans," as quoted by Politico.
I've always liked Perez and was hoping after the primaries that Clinton would choose him as her running mate. (No disrespect to Kaine, who is a good guy, IMO.) But would he make a good DNC chair? We'll see what ideas he brings to the table.
I hope the Ellison-Perez contest doesn't become a proxy war for Democrats who supported Sanders vs. those who backed Clinton. From what I know of the two men's positions and backgrounds, that shouldn't happen. But it might because there's still a lot of free-floating bitterness out there, ready to latch onto the handiest issue.
IMO, there was no single cause of the 2016 debacle, so anyone identifying one problem and proposing a single solution is peddling snake oil. I don't think Ellison or Perez either one will fall into that trap, and both have strong labor credentials. I'll listen to both with an open mind. Not that I get a vote anyway…
So, Team Tom or Team Keith? And why?