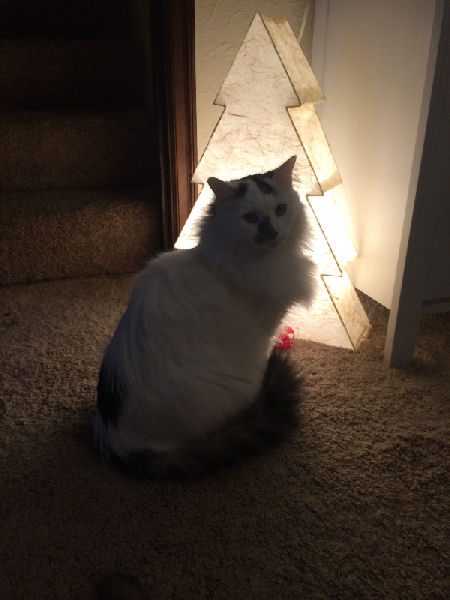 From long-term commentor and Walter-adopter Debit:
This is Oscar. While he's not wearing a demeaning hat or little outfit, he is posed so the decorative tree gives him some dramatic back lighting.

Oscar is a long term, probably permanent foster. My boss was diagnosed with liver cancer earlier this year, and her daughter moved in to help with care. The daughter's cat, Oscar, didn't get along with the mom's cats, so I volunteered to take him. He's settled in to our house and family, and I say probably permanent foster since a) my daughter loves him beyond all reason, and b) any animal that enters this house stays forever, no matter what the original foster time frame might have been.
***********
It has been ten days of non-stop First World Problems around here, culminating (please Murphy the Trickster God) with some outpatient surgery for the Spousal Unit later today. With luck and positive thoughts, I'll see you all eventually…
What's on the agenda for the day?