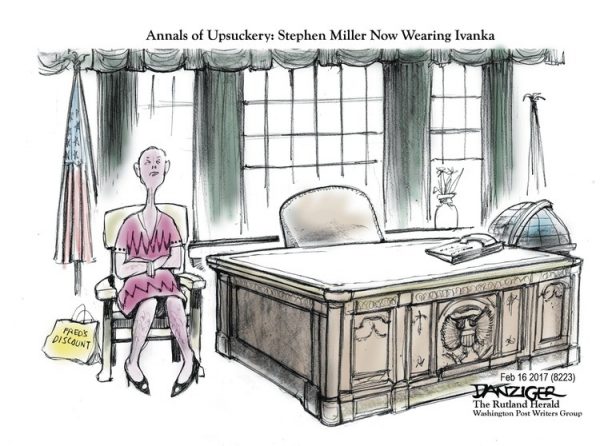 Megan Marguiles, in the Washington Post, "My grandfather helped create Captain America for times like these":
Amid the masses of strangers gathered to protest at the Boston Women's March, I spotted something familiar: that shield — red, white and blue — a simple design that holds the weight of so much conviction. Captain America's iconic getup caught my eye, not only because of the principles it stands for but because he reminds me of another hero of mine.On Dec. 20, 1940, a year into World War II, my grandfather Joe Simon and Jack Kirby, both sons of Jewish immigrants, released the first issue of "Captain America." The cover featured Cap slugging Adolf Hitler . Because the United States didn't enter the war until late 1941, a full year later, Captain America seemed to embody the American spirit more than the actions of the American government.

As Cap socked the Führer, many rejoiced, but members of the German American Bund, an American pro-Nazi organization, were disgusted. Jack and my grandfather were soon inundated with hate mail and threatening phone calls, all with the same theme: "Death to the Jews." As the threats continued, Timely Comics employees became nervous about leaving their building in New York. Then my grandfather took a call from Mayor Fiorello La Guardia, who promised to send police officers to protect them. "I was incredulous as I picked up the phone, but there was no mistaking the shrill voice," my grandfather recalled in his book "The Comic Book Makers." " 'You boys over there are doing a good job,' the voice squeaked, 'The City of New York will see that no harm will come to you.' "…

For years, Captain America… came to symbolize the immense love I had for my grandfather and, with that love, a kind of selfish chokehold on the character. More than once I approached a stranger wearing a Cap T-shirt and asked if they knew who created the superhero gracing their chest. It was an attempt, especially after his death, to shout his name far and wide, but also a childish statement: He's mine. A part of me feared that by sharing my grandfather's creation, our bond and the love that we had would be diluted. Cap was mine because Daddy Joe was mine.

Yet as I stood among thousands at the Boston Women's March on Jan. 21, the personal suddenly felt global: More than five years after his death, my grandfather and his creation seemed newly meaningful. In life, my grandfather stood up for justice and taught me about compassion and understanding. Captain America contains all of that for me on a personal level, but now, in this time of turmoil for America, it's clear that Cap represents something much larger, something we need as a nation…

Late last month, the Jewish Community Relations Council released a statement in response to President Trump's executive order on immigration, saying that "these actions — which are causing anxiety, pain and anguish throughout immigrant communities and our nation — are unjust. We stand together on the side of empathy and religious tolerance and we urge the administration to open the gates of compassion to those seeking safety, regardless of their faith or country of origin."…
***********
What's on the agenda for the day?