Or is even he able to see that this bill if horrible:
A few minutes later, Sen. Joe Manchin III (D-W.Va.) — another member of the Senate Democratic leadership, representing the right as Sanders represents the left — ambled into the same group of reporters.

"I got an older population, I got a poorer population, and I got an opiate issue we need to clean up," Manchin said. "And now, talk about insult to injury. You've got to have a moral compass inside of you. You can't do that. Look at the elderly, look at the poor, look at the sick. How can you look at yourself and say, 'Okay, I'll help the person who needs help the least, the wealthiest people, with more tax cuts, because I'm going to be taking away from the elderly population?'"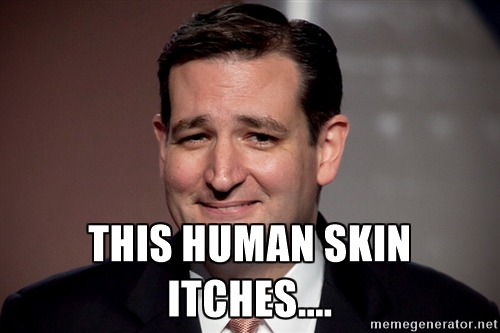 Even alien life form, possible Zodiac killer, potential son of the man who helped plot the JFK, and all around scumbag Ted Cruz thinks the bill is a mess:
Sen. Ted Cruz is weighing in on the Congressional Budget Office's damning assessment of the GOP's health care bill, telling reporters that the "most troubling aspect" of the report is a forecast for rising insurance premiums.

"This is not the mandate that we were elected to fulfill," he said Tuesday, a day after the CBO report was released. "The test of success will be a year from now, two years from now, three years from now: Is health care more affordable?"

The Texan who made his name opposing Obamacare is now openly calling for changes to the American Health Care Act unveiled by House Speaker Paul Ryan and Republican leaders last week.
Is this all just a Bannon plot to bring down Paul Ryan or are they just this fucking stupid?