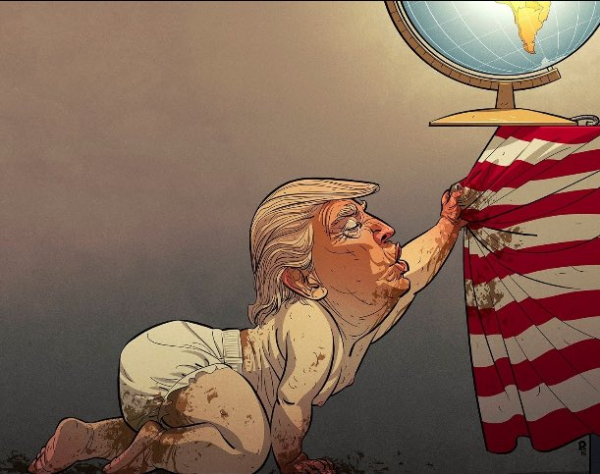 Apparently Trump heard what the media was saying about his budget deal, mainly that he is a big fat fucking loser, and that prompted a tantrum this morning before his handlers were able to take his phone away and clean his didy:
President Trump on Tuesday called for a government shutdown later this year and suggested the Senate might need to prohibit future filibusters, dramatic declarations from a new commander in chief whose frustration is snowballing as Congress continues to block key parts of his agenda.

"Our country needs a good 'shutdown' in September to fix mess!" Trump wrote in a series of tweets Tuesday morning. He likely meant a shutdown in October, as the current spending bill lawmakers have agreed to would fund government operations through Sept. 30.

Trump's call for a shutdown, which appears to be unprecedented from a sitting president, come as his problems are mounting within the House and Senate, chambers that are both controlled by his party.

House Republicans are still split on whether to approve a bill he supports to roll back the Affordable Care Act, and Trump had to agree to major concessions on a stopgap spending bill in order for it to win support in the Senate, which typically requires 60 votes to pass legislation. Republicans only control 52 votes in the 100-seat chamber.

That made it easier for Democrats to block any funding for the creation of a wall along the U.S. border with Mexico, which had been a top priority for Trump. They were also able to continue funding programs that Trump has sought to cut off or scale back, such as Planned Parenthood and the National Institutes of Health.
If I can't get what I want, I'm gonna blow it all up, he says. And this is BEFORE the latest version of Trumpcare goes down in flames.