A blue jay couple that lives in our yard hatched the whiniest chick in the history of the universe this year. The nestlings fledged 24 days ago. I know this because of a photo date stamp: One chick crash-landed in the yard and subsequently failed to achieve air, and my husband rescued it and placed it back in a tree before our dogs could make a snack of it.
Jays aren't known for their dulcet tones, but this bratty little shit is particularly shrill. It stands around under the bird feeder, flaps its wings, screeching all the while, while the parents frantically shuttle food into its open maw. You can tell the parents are goddamned exhausted by the little bastard. Here's a shot through the window, with the fledgling throwing an ear-splitting tantrum on the ground while a parent looks on from the top of the gate: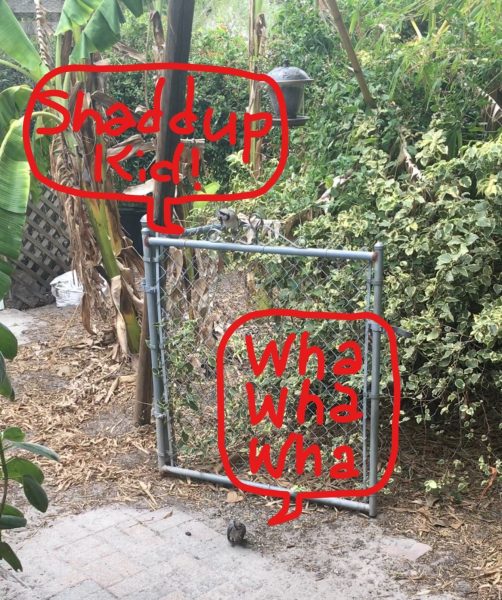 [Dialog supplied by me.]
Sometimes I want to tell those parents that it's time to cut the damned cord already. Their offspring is perfectly capable of flying now, shaky start notwithstanding. There are bird feeders all over the place. Let it paddle its own canoe! But I try to refrain from intervening in the personal business of other families, so I just complain about it here.
Open thread!