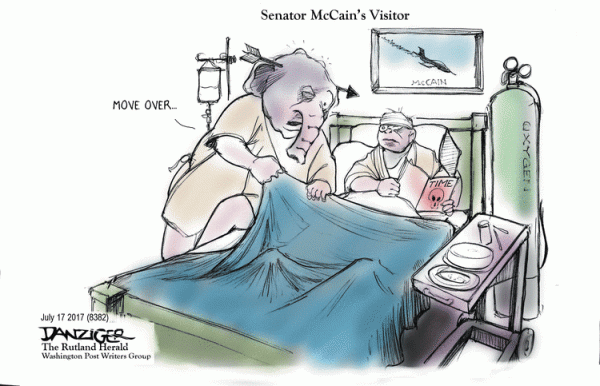 Read Dave's latest post, if you haven't already.
The Washington Post has some more detail on McConnell's latest dodge.
One can never underestimate the steely resolve of a gang of GOPers intent on making other people suffer, even if it requires shooting themselves in a sensitive area. But then again, Mitch McConnell is perceived as being responsible for this latest Repub fustercluck — and neither he nor the guy squatting in the Oval Office seem to have a vast stock of either good will or fear built up to bring the defectors back.
***********
Apart from a huge sigh of relief (and a strengthened resolve not to take your eyes off these bastids), what's on the agenda for the day?
That's it. Trumpcare is dead.
Nothing matters? Bullshit.
The calls, the rallies, the town halls: it all mattered.
Now we keep fighting. https://t.co/IYquaQyQCR

— Jon Favreau (@jonfavs) July 18, 2017
Takes a helluvalot to back off a 7-year promise. But nothing scares lawmakers like sustained, passionate activism from their constituents.

— Sahil Kapur (@sahilkapur) July 18, 2017

.
Fox News reporter speaks up, in case you're wondering:
WH official: Inaction is not an option. We look fwd to Congress continuing to work toward a bill the President can sign to end..Obamacare

— Chad Pergram (@ChadPergram) July 18, 2017
"Cut off all escape routes! Do not let those lemmings back away from that cliff! https://t.co/OYYIuHnKPN

— Dana Houle (@DanaHoule) July 18, 2017
Every Trump voter should be repeatedly told their vote for Trump was squandered by the GOP, who had no interest in advancing Trump's agenda

— Dana Houle (@DanaHoule) July 18, 2017