I was going to post something about Trump's unfurling insanity on Twitter, but you know what? Fuck it. Keeping up with that malevolent buffoon is exhausting. I'd rather talk about a destructive wind event we've already survived instead.
It was 25 years ago today that Hurricane Andrew made landfall in South Florida. Here's one of the best hurricane prep photos ever — Zoo Miami's flock of flamingos herded into a restroom to ride out the storm: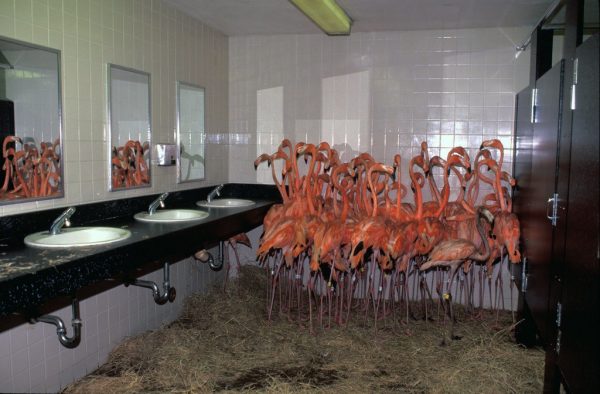 The flamingos survived, although not all of the zoo animals were so fortunate. (The story is here.)
A major hurricane hadn't made landfall in a populated area in Florida for many years before Andrew hit, so people were complacent. Even the zoo guy said he was going about the task of herding the flamingos into a sturdy shelter feeling a bit foolish about it, sure it would result in a big mess for no good reason.
I was living about 300 miles north when Andrew came ashore, but I saw the effects in South Florida not too long after when I accompanied a reporter friend to Homestead. I couldn't believe my eyes.
Anyhoo, that concludes this trip down memory lane. I hope everyone in the path of Harvey stays safe. Hurricane Andrew made more folks take storms seriously again. Good thing since it seems we're in for more of them.
Open thread!