Good morning, I have a status report on CSR responses that I need to write before I get coffee for myself and my wife.
There will be lawyers
This was the only prediction I was certain on Friday morning.
From CNBC:
The attorneys general for New York, California, and more than a dozen other states moved Friday to sue the Trump administration to block the cutoff ofcritical Obamacare payments to health insurers.
Nick Bagley (U-Mich law professor and ACA legal eagle) thinks that over the long run insurers will be at least made whole if not legally allowed to double dip:
In other words, we're about to see witness of the largest lawsuits, dollar-wise, in United States history.

What's more, I think the lawsuits are viable. We've already seen a couple of district courts grant multi-million dollar judgments in litigation over risk corridor payments. And the risk corridor cases raise some tricky questions about what sorts of promises the federal government has made to insurers. The cost-sharing cases won't. On the law, they're really straightforward….

taxpayers will have to pay increased premium subsidies at the front end. Then they'll also pay the cost-sharing money through litigation at the back end. It's a financial bath, and for no good reason other than sheer political cussedness.

What a stupid, profligate, and unnecessary mess.
Insurer Responses:
So far no insurer has fled.
Industry Responses:
A whole lot of people including Republican governors, think Republicans in Congress should pass CSR funding.

And then there's this guy…1 pic.twitter.com/2Ko8obyPMY

— Andy Slavitt (@ASlavitt) October 15, 2017

Every unlikely ally is on the same page. Appropriate CSR ASAP.
State Responses:
CMS is allowing states that mandated their insurers assume that CSR would be paid to have an emergency refiling window for Healthcare.gov.  Oregon, Alaska, and South Dakota at the very least are ordering their insurers to file new rates to reflect the change in reality of no CSR.  I am assuming  that North Dakota will be doing the same but I am not seeing anything solid yet.
CMS is not allowing insurers to resubmit rates when they had the choice to submit rates with or without CSR as an insurer controlled assumption.  This will knock insurers out.  Montana has a good example:
Matt Rosendale said he will hold the Montana Health Co-op and PacificSource Health Plans to the rate increases they proposed, which average 4 percent for the co-op and 7.4 percent for PacificSource, unless he hears differently from the U.S. Center for Medicare and Medicaid Services. The rates were published earlier this week.
"Any Montana consumer who purchases these products can be assured that my office verified that Montana's insurers, whether receiving subsidies or not, are financially able to provide the benefits for the posted rates regardless of action taken at the federal level," Rosendale said in a statement.
Blue Cross-Blue Shield of Montana filed rates assuming that CSR would not be paid so Montana may not have any bare counties but there may be disruption.  We will find out more over the next week or so.
I can't figure out why insurers who had the option to assume or not assume CSR payment would have elected to assume that CSR would continue uninterrupted.  It was a bet the company decision while the Mini-Max decision was to assume that CSR would not be paid.  I looked at this in May:
If there are multiple insurer and they disagree the dynamics are interesting.  Insurers that assume they won't be paid CSR always survive….

In this split decision making scenario, the carriers that are optimistic that CSR will be paid are in an all or nothing scenario.  If they are right and the government pays CSR, they get almost all of the membership in the market.   Assuming they priced appropriately, they should make good money for the year.  If they guess wrong and CSR is not paid, they get all of the membership and the state regulators shut them down…

But the dynamic changes once all of the optimistic insurers fold, liquidate or withdraw.  The surviving insurer(s) will have priced appropriately to handle the special enrollment period refugees from the optimistic insurers.  The pessimists will do fine in this scenario.
Overall Thoughts
Right now I am not worried about any states being completely bare.  The three state based marketplaces that told their insurers to assume no CSR (Maryland, Rhode Island, Vermont) have as much time and flexibility to do whatever they decide they need to do. Their decision cycle is being driven by local factors and not CMS/Healthcare.gov factors.  I need to get information on North Dakota and Oklahoma but I think every state will have at least one insurer whose rates assumed that CSR would not be paid.
I am concerned about some insurers pulling out.  There will be two groups of insurers that are at risk of withdrawal.  The first are the insurers who voluntarily assumed that CSR payments would be made and who can not conduct an emergency re-filing.  The second group are thinly capitalized, small insurers who are taking a cash flow hit that could trigger state regulatory review.  I have not heard of any insurer in that situation yet but the possibility exists.
I am happily surprised that so far it looks like the overwhelming majority of states are loading CSR costs onto only their Silver plans.  At least ten states (see below) are loading the entire costs only onto On-Exchange Silvers.  Most states are loading their CSR costs onto all Silver plans but there are opportunities for individual insurers to clone off-Exchange only Silver plans that don't have the CSR costs baked into their rates.  Three states are spreading the entire load.  As we looked at this earlier in the week, these choices have significant distributional consequences: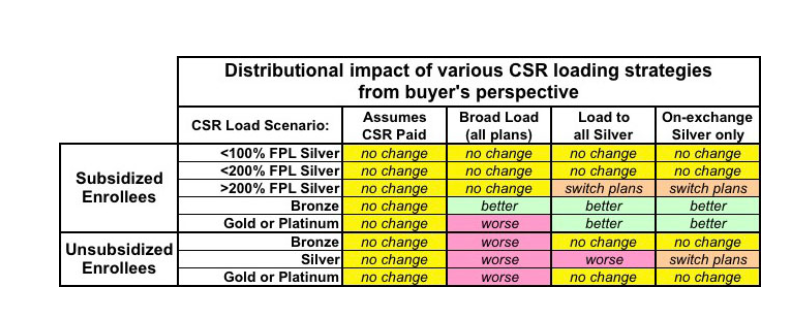 Below the fold is the map of the states and the best estimate of how they are responding to CSR not being funded.

| | | |
| --- | --- | --- |
| Strategy | Group | Definition |
| Silver Switch | CSR Response in place | All CSR costs to only On-Exchange Silver |
| Silver Load | CSR Response in place | All CSR costs to only Silver |
| Broad Load | CSR Response in place | All CSR costs to all plans |
| Reserve | CSR Response in place | A plan is in place |
| Mixed | Mixed | Multiple responses |
| No Response | No Response | No response |
| Unknown | Unknown | Unknown |