Looks like all you're going to get from Twitler is thoughts and prayers, West Virginia (and elsewhere):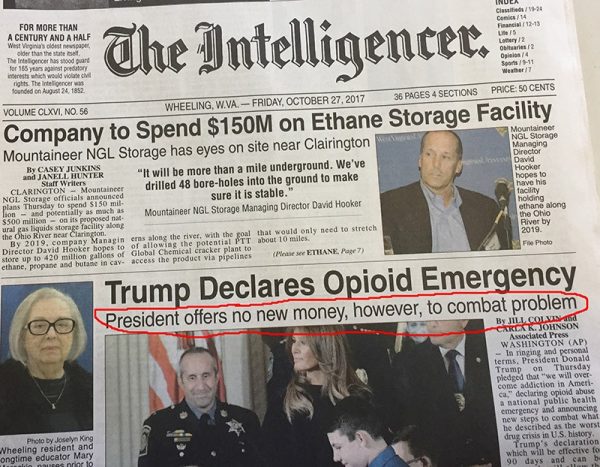 In ringing and personal terms, President Donald Trump on Thursday pledged that "we will overcome addiction in America," declaring opioid abuse a national public health emergency and announcing new steps to combat what he described as the worst drug crisis in U.S. history.

Trump's declaration, which will be effective for 90 days and can be renewed, will allow the government to redirect resources, including toward expanded access to medical services in rural areas.

But it won't bring new dollars to fight a scourge that kills nearly 100 Americans a day.

"As Americans we cannot allow this to continue," Trump said in a speech at the White House, where he bemoaned an epidemic he said had spared no segment of American society, affecting rural areas and cities, rich and poor and both the elderly and newborns.

"It is time to liberate our communities from this scourge of drug addiction," he said. "We can be the generation that ends the opioid epidemic."

Deaths have surged from opioids, which include some prescribed painkillers, heroin and synthetic drugs such as fentanyl, often sold on the nation's streets.

Officials said they also would urge Congress, during end-of-the year budget negotiations, to add new cash to a public health emergency fund that Congress hasn't replenished for years. The Public Health Emergency Fund currently contains just $57,000, according to the Department of Health and Human Services, a negligible amount.
That's the local right wing rag- the op-ed page features columns from intellectual giants like Ben Shaprio and Jonah Goldberg and the usual who's who of douchebag wingnuts. Yet they are seeing right through Trump's bullshit.
Eight hundred and eight people died from drug overdoses in WV last year- that's a Hurricane Katrina every two years. And that's not counting the non fatal overdoses, of which there are thousands upon thousands more. Yet we can't get a dime to deal with it. Literally, so many people are dying from overdoses that the state can no longer afford to fucking bury them:
Deaths in West Virginia have overwhelmed a state program providing burial assistance for needy families for at least the fifth year in a row, causing the program to be nearly out of money four months before the end of the fiscal year, according to the state's Department of Health and Human Resources (DHHR). Funeral directors in West Virginia say the state's drug overdose epidemic, the worst in the nation, is partly to blame.

West Virginia's indigent burial program, which budgets about $2 million a year for funeral financial assistance, had already been under pressure from the aging of the baby-boom generation. The program offers an average of $1,250 to help cover funeral expenses for families who can't otherwise afford them.
There are not enough treatment facilities, there is no money for the treatment facilities, idiotic laws prevent medicaid from paying for treatment at facilities https://www.washingtonpost.com/news/powerpost/paloma/the-health-202/2017/10/27/the-health-202-there-s-a-no-brainer-way-to-solve-the-opioid-crisis/59f2058830fb0468e7653dc0/">that have more than 16 beds, there is oh to hell with it it's a god damned disaster and all we are getting from the President who promised these gullible folks he would do something is words and the always helpful thoughts and prayers and sometimes not even that:
Conway: The best way to stop people dying from drug abuse is by "not starting in the first place" https://t.co/Pxw8AUpQlq pic.twitter.com/FUCraSXWsz

— The Hill (@thehill) October 27, 2017
A rehashed "just say no" is what they are offering. The only thing the "Just say no" program did in the 80's that I am aware of was make a handy quip for someone to utter as they pulled a tube "JUST SAY NO COUGH COUGH COUGH GIGGLE."
But hey- there's money for tax cuts.