This is what consultants do.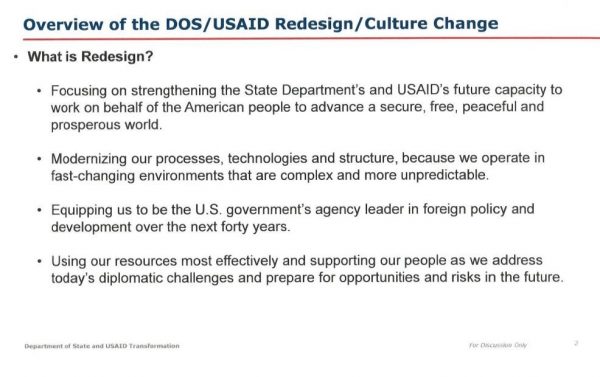 It is hard to imagine how Exxon survived Rex Tillerson. He engaged two pricey consultancies, and he didn't even get a t-shirt out of it.
It's possible to argue that the State Department needed some reorganization. The one substantive suggestion I've seen coming out of Tillerson's shop (as distinct from the State Department) is that the number of special envoys needs to be decreased.
That's actually a reasonable suggestion. A President sees a particular problem in foreign relations and appoints a person as special envoy to deal with it. Some are successful, some not. The existing organization is usually uneasy about them, sometimes hostile. They, or their office, may linger after the problem is no longer essential to address.
I've griped, mostly on Twitter, about the lack of information about this reorganization that Tillerson wants to bring about. What are his objectives? How does he plan to go about achieving them?
The State Department is not like Exxon. It is the primary governmental interface for the United States with the rest of the world, not a profit-making organization. Exxon's objectives are much simpler: to get oil out of the ground in the cheapest way possible and sell it for the highest price possible.
That can become more complicated than the oilmen would prefer, so refineries must be built and the oil must be processed into a form that consumers want to buy. And so on. As an international corporation dealing in many types of sales in many countries, however, Exxon has a department that is not unlike the State Department in that it must learn about those countries and how to deal with them, again with much more limited objectives. So one might think that Tillerson has some sense of how the State Department works.
You might think that a proposal for a reorganization of the State Department might require as much information as is in the preceding few paragraphs, perhaps even more – that State issues passports and helps Americans abroad; that it develops the background information necessary to negotiate treaties; that it supports cultural and scientific exchanges, and more. Those functions are not the same as cost centers.
But consultants don't even need to know that. They have apps that require only the name of the client to be input and can spit out a hash of processes, impact, execute, build, framework, and other buzzwords. "Elevate their leadership" and "appetite for change" are nice.
So look through this briefing for the Senate Foreign Relations Committee. No mission statement. No description of what people actually do or are expected to do. No org chart for what the department will look like after the reorg. Thin even for what consultants do.
Does Rex Tillerson believe that this represents substance? Is he trying to BS Congress? As is so often the case in this administration, incompetence vies with maleficence.