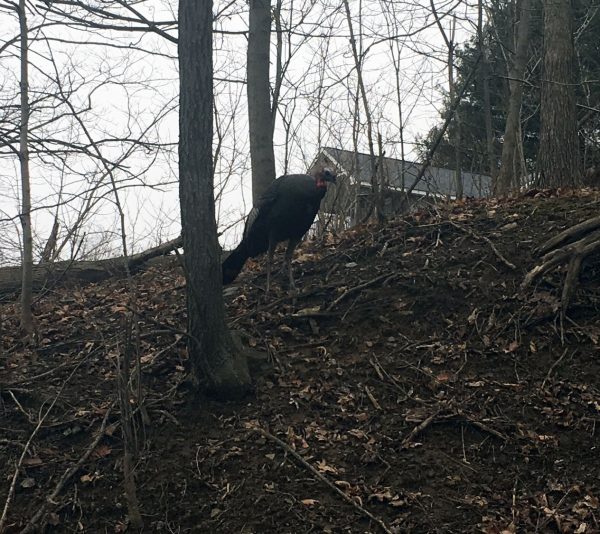 I had to run Christion to work today because his car is in the shop, and on the ride home I was approaching a sharp curve around the Ghost Hollow Viaduct, and as I rounded the curve I came upon a car that was completely stopped in the middle of the road. I waited a second, and noticed they were not doing anything but sitting there honking, so I pulled up next to them and rolled down my window. It was two college girls from Bethany, and they rolled down their window and I yelled "Are you all ok? Are you broken down?" She looked back at me, said, "Yeah, turkey" and honked the horn again.
I now had no idea what was going on (Did she just call me a turkey? What a quaint insult.), and apparently she could tell I was confused as hell, because she yelled "TURKEY" again and pointed to the front of her car.
Sure enough, there was a wild turkey right in front of her car, just standing there chatting back at them as she honked the car. So I pulled in front of her, putting the turkey in between me and her car, put my hazards on, and went out to get the turkey out of the road. Oh, I am wearing overalls, just to set the scene.
It was a beautiful bird, with bright blue and red colorings on his wattle and snood, and he stood about four feet tall. I walked up to him and he let me get really close, and I shooshed him off the road while talking to him- "I don't know what the word on the street is but I can't adopt any more pets so you are just going to have to go about your business come on now let's go get off the road you silly bird that's it get off the road no not that way get over here come on you can do it that's a good boy…"
I got him up an embankment into a little copse of trees that lead to the woods, and turned around to wave the girls on (by this time there were four cars behind them). As I was doing this, the turkey had turned around and was following me and had gotten back into the road. So I stood between the turkey and the road and got all the traffic cleared, and then shooed the turkey back up the embankment again and we had a bit of a stand off:
After a little bit, when I was sure he was going to head back up the hill into the woods, I went to go back to my car, and a car was coming from the other direction, and slowed down because they thought I might have a problem. The guy stopped, asked me if I was ok, and I said "I'm fine, was just getting that turkey out of the road" and pointed to where the turkey was and OF COURSE the god damned bird was nowhere to be found. He said "Uhh ok," looked at me like I was a crazy person, and put his car in gear and left.
THE END.