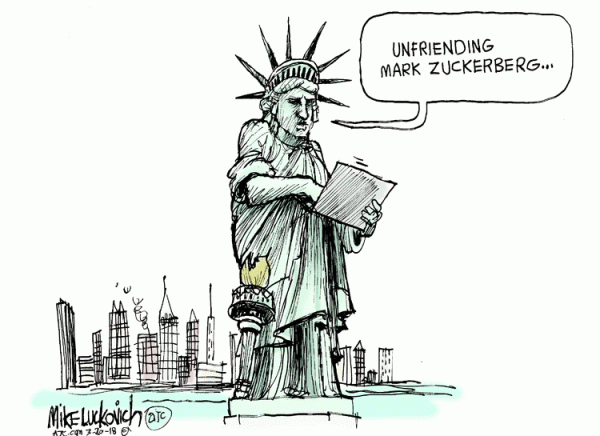 Of course it's infrastucture week. They're digging holes and shoveling shit aren't they?

— TreasonWeasle (@TreasonWeasle) March 20, 2018
Michelle Goldberg, in the NYTimes, on "Trump's High-Tech Dirty Tricksters":
…After days of revelations, there's still a lot we don't know about Cambridge Analytica. But we've learned that an operation at the heart of Trump's campaign was ethically nihilistic and quite possibly criminal in ways that even its harshest critics hadn't suspected. That's useful information. In weighing the credibility of various accusations made against the president, it's good to know the depths to which the people around him are willing to sink.

Created in 2013, Cambridge Analytica is an offshoot of the SCL Group, a British company that specialized in disinformation campaigns in the developing world. It's mostly owned by the Mercer family, billionaire right-wing donors and strong Trump supporters. Before becoming the Trump campaign's chief executive, Steve Bannon was Cambridge Analytica's vice president. Trump's former national security adviser, Michael Flynn, who has since pleaded guilty to lying to the F.B.I., also served as an adviser to the company…

At a minimum, we've learned that the Trump campaign's vaunted social media program was built on deception. Shortly after the 2016 election, Forbes ran an article crediting Jared Kushner for his father-in-law's shocking triumph. Thanks to digital tools, it said, the traditional presidential campaign was dead, "and Kushner, more than anyone not named Donald Trump, killed it."

For those who knew something of Kushner's pre-election career, this portrait of him as some sort of analytics genius was befuddling. The small, gossipy New York newspaper he'd owned, The New York Observer, didn't even have a particularly good website. "He wasn't tech-savvy at all," Elizabeth Spiers, the paper's former editor in chief, told me.

Cambridge Analytica's corruption helps provide the missing piece in this story. If the Trump campaign had a social media advantage, one reason is that it hired a company that mined vast amounts of illicitly obtained data.

There's a lesson here for our understanding of the Trump presidency. Trump and his lackeys have been waging their own sort of psychological warfare on the American majority that abhors them. On the one hand, they act like idiots. On the other, they won, which makes it seem as if they must possess some sort of occult genius. With each day, however, it's clearer that the secret of Trump's success is cheating. He, and those around him, don't have to be better than their opponents because they're willing to be so much worse.
Trump won the election by leveraging stolen data from a shady firm and stolen emails from a foreign power. He received $30M from the NRA that might've originated in Russia. And Congress might be being blackmailed or bribed to go along with it. This is a criminal enterprise.

— Samuel Sinyangwe (@samswey) March 20, 2018
Interesting that when Clinton seemed to have Cambridge Analytica's number last May… pic.twitter.com/PjlXI3EKRB

— Schooley (@Rschooley) March 20, 2018
You just know this is going to end with Trumpies going to jail for trying to bleach their servers, right?

— The Hoarse Whisperer (@HoarseWisperer) March 19, 2018