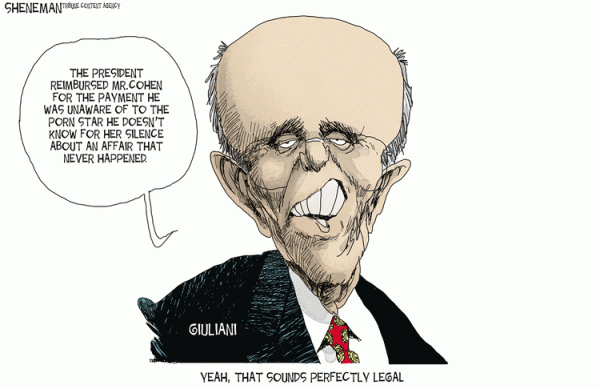 Everyone thinks George Orwell was so fucking prescient, but where was the book about belligerent septuagenarians with dementia destroying the citizenry's will to live through televised displays of lunacy?

— Ken Fitzgerald (@loudlong) May 3, 2018
They've been cronies since Roy Cohn's glory days, but I suspect "America's Mayor" has begun to think less about Donald's requirements and more about Rudy's. And he's doing a remarkably bad job of it, either way. A little Saturday night reputation massacre:
1. Judge Jeanine is on – her guest tonight is the president's personal attorney, Rudolph Giuliani.

— Yashar Ali ? (@yashar) May 6, 2018
3. Judge J asks Giuliani about the special prosecutors…..Giuliani says about Mueller giving Cohen case to SDNY and not Manafort…"maybe they feel they can flip Manafort faster."

The question is – why is he offering the possibility that flipping can happen?

— Yashar Ali ? (@yashar) May 6, 2018
7. Giuliani: "I'm an expert on campaign finance law…there's no way this is a campaign finance violation…nor was it a loan. Mr. Cohen is the worst treated…and Mr. Manafort."

— Yashar Ali ? (@yashar) May 6, 2018
10: Rudy: "The only evidence of a crime here involves the government."

— Yashar Ali ? (@yashar) May 6, 2018
Reminder that Trump hired Giuliani because he is, "good on television."

— Schooley (@Rschooley) May 3, 2018
Rudy: "The facts I'm still learning. This is 1.2 million documents. I have been in the case for two weeks. Virtually one day in comparison to other people. I'm not an expert on the facts yet. I am an expert on the law." pic.twitter.com/7DaYNNTZDT

— Josh Marshall (@joshtpm) May 6, 2018

 
Sunday morning:
Giuliani: It is possible Michael Cohen paid off other women for Trump https://t.co/cBPZz9BXVX

— Washington Post (@washingtonpost) May 6, 2018

Thoundbites, he croons to himself, That'll get the hot bookings… …

… When asked during an interview on ABC News's "This Week" whether Michael Cohen, Trump's personal attorney, had made payments to other women, Giuliani said he did not know of any but acknowledged that this could have happened.

"I have no knowledge of that," Giuliani said. "But I would think if it was necessary, yes."…

During the interview on "This Week," during which he also said Trump would not have to comply with a subpoena from the special counsel investigation, Giuliani dismissed the president's comments about the Daniels payment to reporters aboard Air Force One in early April. The president had said he did not know about Cohen's payment or where Cohen got the money.

"The reality is, those are not facts that worry me as a lawyer … those don't amount to anything, what's said to the press," Giuliani said. "That's political."…

"I never thought $130,000 — I know this sounds funny to people there at home," he said. "I never thought $130,000 was a real payment; it's a nuisance payment. When I settle this, when it was real or a real possibility, it's a couple million dollars, not $130,000."

Giuliani said that Cohen is no longer Trump's personal attorney, adding that that would be a conflict. He also said that the possibility of pardoning Cohen — who is facing scrutiny from federal investigators exploring whether he committed bank fraud and wire fraud — has not been raised.

"Michael's lawyers all know that that obviously is not on the table," Giuliani said. "That's not a decision to be made now; there's no reason to pardon anybody now."…
Ya gotta let these low-lifes, these little weasels, know where they belong on the food chain.
Question: was Rudy Giuliani ever anything more than a self-aggrandizing creep? I paid no attention to him before 9/11; despite media adulation, he was actually terrible right away: remember when he wanted to stay in office despite end of term? Was he ever good for anything?

— Paul Krugman (@paulkrugman) May 5, 2018
2/ Watch him and you see a man who's soft and confused and more loose than he once was when it comes to anger management and impulse control. The last 24 hrs is Rudy being let outside that cocoon. Bereft and flailing.

— Josh Marshall (@joshtpm) May 4, 2018
What's more interesting is when @RudyGiuliani was working w/ Trump team there were countless FBI leaks. He comes onto trump's team again, & life & behold leaks start happening.

— D1 (@DCdem1163) May 1, 2018
Never thought I'd ever want Rudy Giuliani to keep talking.

— John Dingell (@JohnDingell) May 3, 2018