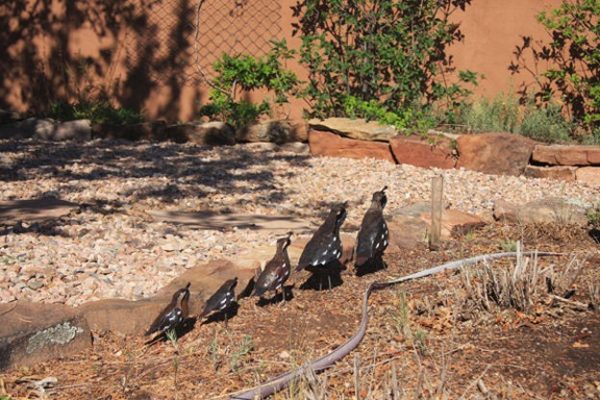 From desert gardener and intrepid front-pager Cheryl R:
Here are a couple of photos of a covey of metal quail I bought from an artist at a Roseburg arts and crafts show while I was in Oregon.

I am reworking my flowerbeds and plan to plant a trumpet vine behind them. The other side of the wall is a six-foot drop to the driveway. I removed several Russian sage. Nobody told me they send up suckers – ugh! I notice they're not being sold as widely as they were for a while.

I am pleased with my quail.
What's going on in your garden(s) this week?
***********
And for those among us who have ever been frustrated by the indigenous wildlife's 'landscape redecoration', a bonus story from the Toronto Star — "Toronto built a better green bin and — oops — maybe a smarter raccoon":
In January, as the city of Toronto rolled out its final fleet of new raccoon-resistant green bins, Suzanne MacDonald was flooded with emails from citizens fretting about the fate of the masked bandits known for pillaging our food waste.

The worried residents wrote to MacDonald, an animal behaviourist and known raccoon sympathizer, because they hadn't seen the creatures creeping through their backyards lately, and were beginning to wonder: Where are they? Are they starving to death? Have they been forced to relocate in search of nourishment? What have we done to the raccoons?

Designed with a special raccoon-resistant lock, Toronto's new organic waste bins, which the city began distributing to great fanfare in 2016, were perhaps the greatest human effort in what we like to call our "war" against the raccoons. The animals had been effortlessly pillaging our first-generation green bins for more than a decade, leaving morning messes for us to scrape from our driveways and sidewalks. The city's search for a new-and-improved bin had identified animal resistance, "especially for raccoons," as a top priority.

The $31-million contract gave us roughly half a million bins, a decade of maintenance and a promise: that raccoons would have great difficulty penetrating the clever new receptacles. City politicians called the bins "raccoon-proof." The bin maker — and MacDonald, who ran field tests on the prototypes — used the term "raccoon-resistant" because, well, you just never know…

Twelve months before the rollout of the new bins in Toronto's west end, MacDonald had started logging the body mass index of raccoons killed in traffic. "Very glamorous work," she called it. Her goal was to find out whether the loss of a steady food source would make our famously fat raccoons leaner.

MacDonald said I was welcome to join her for the next weigh-in. I put the appointment in my calendar: "Measuring dead raccoons."

Over several months, I followed MacDonald's research, expecting to learn how raccoons were adapting to life without green bins. But as a long winter melted into spring, things got weird, and my simple inquiry turned into an accidental investigation. A viral video with a curious backstory and suspicious activity in my own laneway shifted my focus from whether the green bins were starving the raccoons, to whether the animals had found a way, once again, to outsmart us…