I'm tired. It was 100000 degrees today again, and the humidity was horrible. It just sucks the life out of you. Tomorrow is another long day because I have to head up to Pittsburgh to take Lily to chemo (three weeks just flies by). But at least she is still alive and super happy, and, as you can see, right where she is supposed to be as I write this: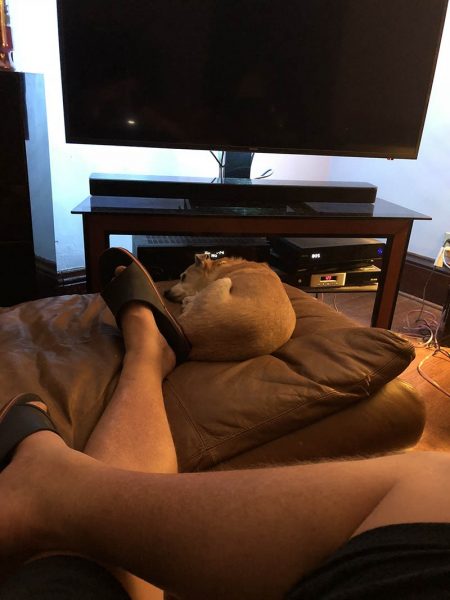 I think I am going to take the people at PVSEC some tomatoes tomorrow. Who doesn't love tomatoes?
I'm also rushing to get everything done before leaving for the beach next Friday (and if one more asshole mentions the fucking tropical storm trying to put the kaibosh on me I am gonna cut someone). Just so much to do and so little time.
I spoke with Alain the other day and we put the brakes on whatever site changes he had in mind. Other than maintenance and maybe fixing the edit function, we're not doing anything for a couple weeks. I've spoken with a couple of the older (I don't mean age) commenters who offered to help with the front end stuff, and we are looking for a targeted roll out of around October 15th. Two priorities are a solution for the video ads and the comment system, but there is a bunch of other stuff that needs to be fixed and changed. As I was telling others, I would love nothing more than to go back to 2007 and have this:

But we just can't. With so many different mobile sites, etc., it's just impossible. The other reason things are such a pain in the ass is because I refuse to use offsite commenting. I do that for some very real reasons. This website is an archive of us. Our interactions, our conversations, our thoughts. We've gone through too many personal emergencies and life events for all those to just disappear, and that isn't even going into all the funny things people have said. I want it to stay that way, and I can not guarantee the safety of comments on an external site. The other reason is because I will refuse to comply with any requests from the authorities to give up usernames, emails, and ip addresses. That's just not going to happen.
So, it limits us in some ways.
The other problem (for me, at least) is replicating the problems some of you encounter. I had my boot drive crash the other day, replaced it, and had a clean windows install. I installed malwarebytes, which is always the first thing I install, then downloaded chrome, firefox, safari, etc. I then checked Balloon Juice with clean installs of them all, reloaded and refreshed multiple times, and I never got an audio ad. I never got an ad stretching outside the borders.
That doesn't mean I don't trust you that it is happening- my own brother got an audio ad last week and texted me. It's just it makes it really hard to address when you can't see it happening or replicate it. And I know how annoying it is. Fucking CNN with those god damned autoplay clips drives me god damned mental. So I am working on it. I don't want you all having a lousy time here.
At any rate, we're going to fix some things and upgrade some things and you all will have a say, but it just isn't going to happen right now. Alain has a lot of shit going on, I have a bunch of shit going on, and it will take a little time.
So that's that. Have a little faith in me, I give you my word I will not fuck this up. I love this shitty little website as much as you all do. And I just realized I forgot to turn the damned sprinkler off.