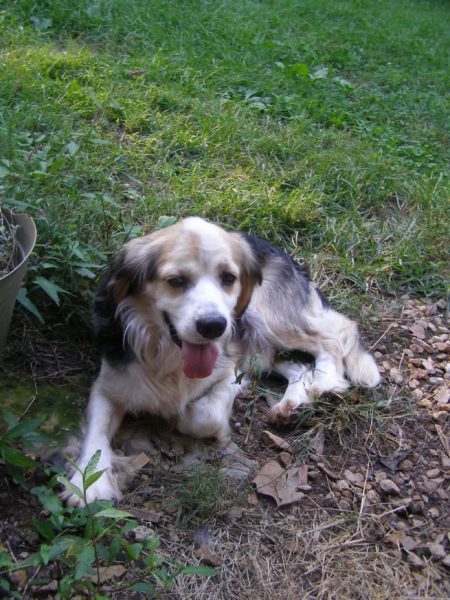 A respite from politics, from frequent commentor, gifted gardener/photographer, and general Friend of the Blog Ozark Hillbilly:
I thought people might like to meet the newest member of the Hillbilly family Ozark, Percy.

Percy first showed up at my neighbor's "B" house with a friend, and the pair soon picked up the nom de guerres "Beavis" and "Butthead" (he was Beavis). "B" was really unsure about taking in 2 dogs, one of which was very hyper (that would be Butthead, a very sweet female of unknown heritage, lanky and loves to run). I was helping her get them settled in, with crates, proper food and sufficient living arrangements ("B" also has 2 older and very much fatter house cats) and helping her to understand dog behavior better. From time to time the 2 would show up at our place and hang around chasing various critters.

Then Hurricane Gordon came thru with a two-day soaking and Beavis just refused to leave. I set him up on the porch with a dog bed, food bowl, and water, knowing full well it was a mistake. Sure enough, after 2 days he had pretty much decided he liked things here and just refused to leave.

So we changed his name to Percy, short for Persistent.

The top pic is as he showed up, the long hair tangled in burrs.

Living where we live the long hair was impossible, so we got his hair cut short where it will be from now on, as in the second pic. You can see 2 of the 3 scars he has on his forehead. The signs of abuse have piled up till I can no longer deny it. He is a very sweet dog, loving and not aggressive (except towards chickens) in any way, but he cowers when I bend over to pet him, tucks his tail when getting petted, hates getting into vehicles and hates staying in them even more, is very insecure especially when it comes to me (he always has to be near me)(except when chasing a rabbit, then fuhgeddaboudit), etc etc.

The 3rd pic is not a very good one (they wouldn't sit still competing for my one available hand) but it pretty well captures the Woofmeister's attitude about all this.

Having had experience with Beagles I had sworn I'd never own one. Percy seems to have just enough Spaniel (?) in him to temper the urge to chase anything and everything till the cows come home as he tends to chase for only 10-15 minutes.

Due to Woof's congestive heart disease I have been trying to convince my wife to adopt a 2nd dog as a bridge for the post Woof days but she was resistant. Percy took care of it for me.